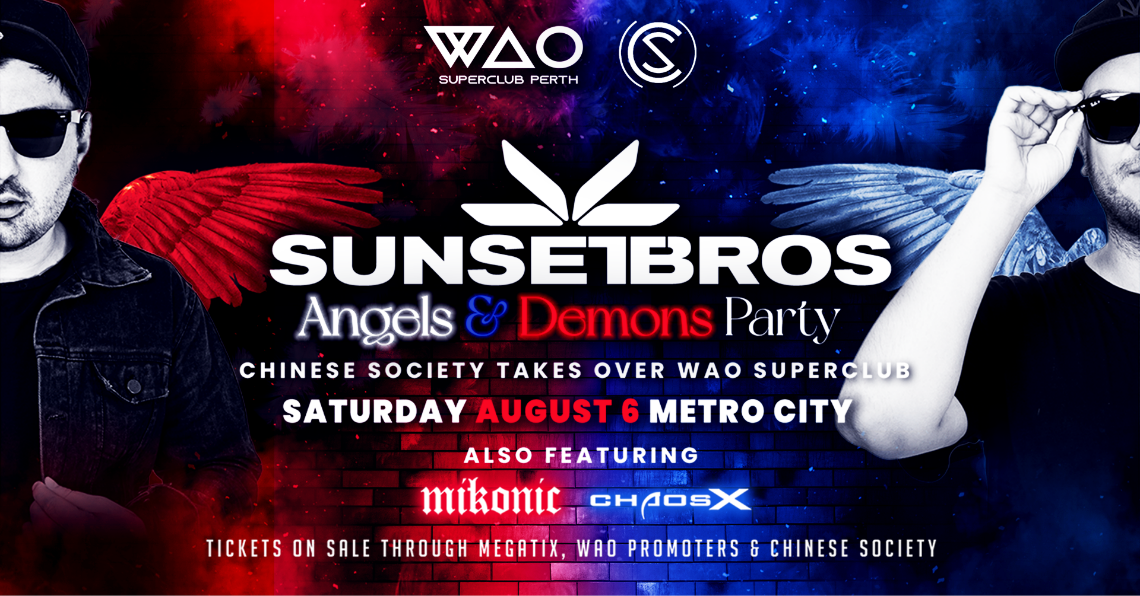 WAO Superclub X CS 'Angels & Demons' Party - Feat Sunset Bros
18+
09:00pm, Sat 6th Aug 2022
This event has already taken place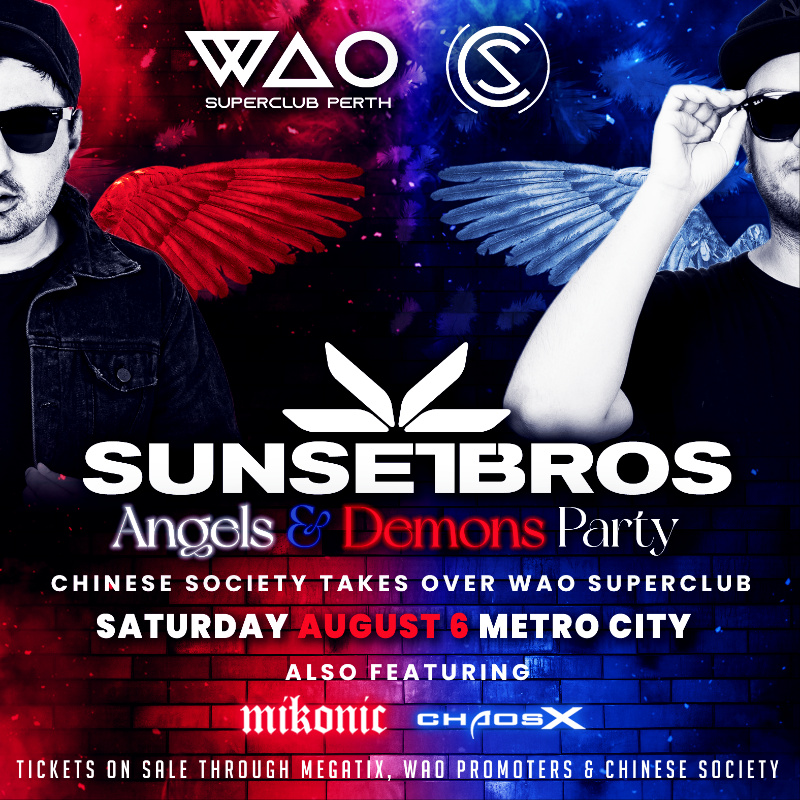 Venue Details
Metro City Concert Club
146 Roe St
Northbridge, WA, 6003
WAO Superclub X CS 'Angels & Demons' Party - Feat Sunset Bros
18+
09:00pm, Sat 6th Aug 2022
𝗦𝗨𝗡𝗦𝗘𝗧 𝗕𝗥𝗢𝗦 𝗔𝗥𝗘 𝗖𝗢𝗠𝗜𝗡𝗚 𝗧𝗢 𝗪𝗔𝗢!
Sunset Bros are one of Australia's BIGGEST dance acts EVER - with their hit song 'I'm Feelin' It (In The Air) reaching over 27 MILLION streams on Spotify, having recently collaborated with Hooligan Hefs and SCNDL for 'Take Off', they can't wait to give Perth an early taste of what to expect as they get ready to headline Festival X across the country this summer!
Also featuring WAO Superclub Resident DJ's Mikonic and Chaos X
𝙎𝘼𝙑𝙀 𝙏𝙃𝙀 𝘿𝘼𝙏𝙀: Saturday August 6
Chinese Society TAKES OVER WAO Superclub Perth for their famous 𝔸ℕ𝔾𝔼𝕃𝕊 & 𝔻𝔼𝕄𝕆ℕ𝕊 party!
Are you an ANGEL
or DEMON
HUGE prizes for BEST DRESSED!

THIS IS GOING 
TO BE MASSIVE!
𝙏𝙄𝘾𝙆𝙀𝙏𝙎 𝙊𝙉 𝙎𝘼𝙇𝙀: Monday 11 July 6 PM from Megatix - EARLYBIRDS are extremely limited, so get ready to get yours quickly!
* Over 18's only unless advertised otherwise. * Photo ID is essential,­ acceptable ID is a current and valid Australian Photo Drivers Licence or Passport. Please check with the venue for any other acceptable forms of photo ID * All children under 18 not permitted, even if accompanied by an adult * Intoxicated persons will not be admitted * No thongs or steel cap boots * The venue reserves the right to refuse admission to any person * Dangerous behaviour including Crowd Surfing, Stage Diving, Moshing and Violent Dancing is not allowed and will result in your immediate removal * Please contact the venue regarding accessibility requirements, some areas of the venue are not accessible *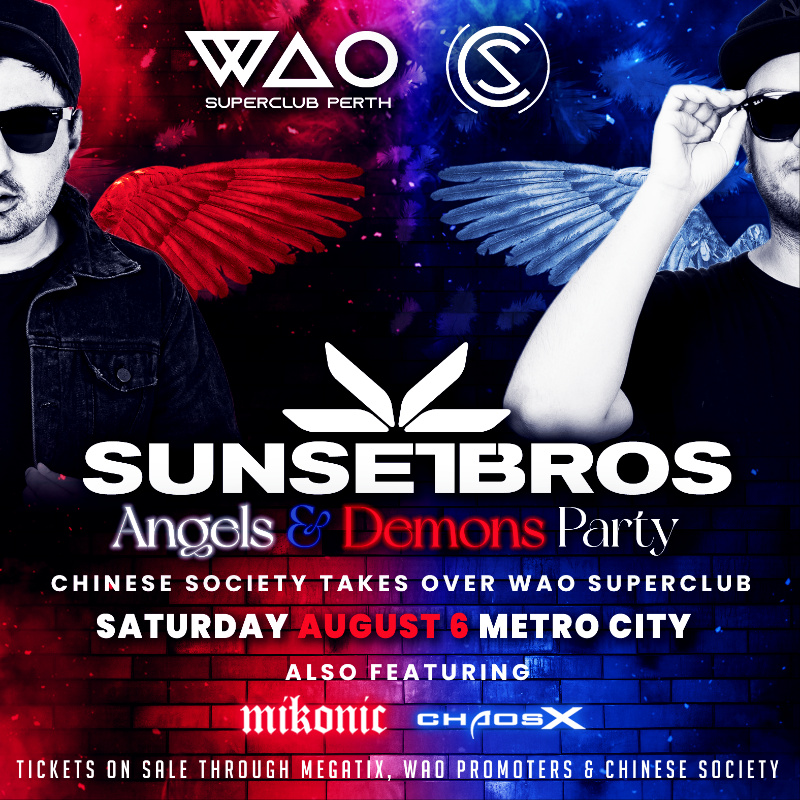 Venue Details
Metro City Concert Club
146 Roe St
Northbridge, WA, 6003