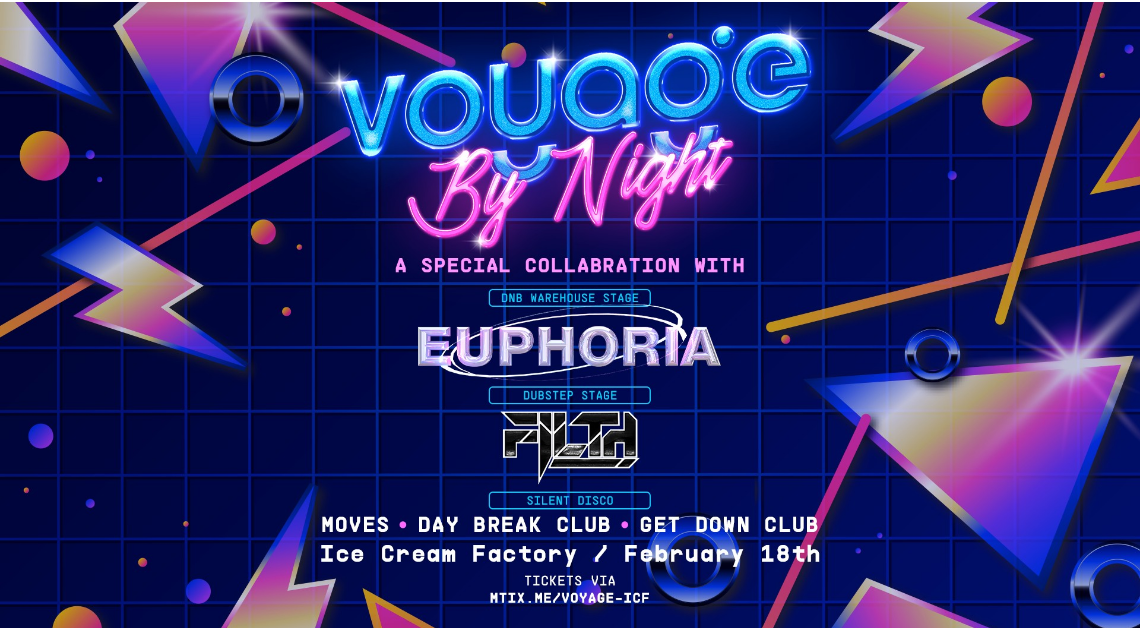 Voyage By Night at Ice Cream Factory
18+
05:00pm, Fri 18th Feb 2022
This event has already taken place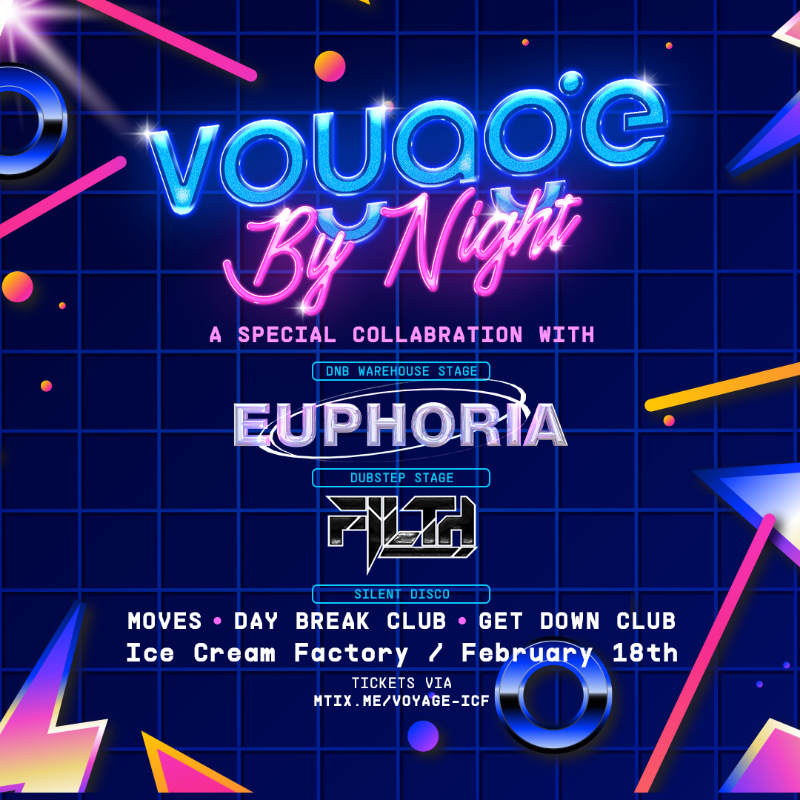 Venue Details
The Ice Cream Factory
92 Roe Street
Northbridge, WA, 6003
Voyage By Night at Ice Cream Factory
18+
05:00pm, Fri 18th Feb 2022
Voyage presents an exclusive special collaboration between some heavyweight brands in Perth. After a let down of a Xmas/New Year period, we're joining forces and taking over the Ice Cream Factory for a very special night.
The only multi-genre, multi-stage show at ICF this year as we collate some of the best local talent Perth has to offer.
What to expect:
🎉 VOYAGE & EUPHORIA TOWER STAGE
Voyage & Euphoria combine forces on the open-air ICF Tower Stage with a mix of party bangers, melodic house and floor-stomping drum and bass.
🔊  FILTH BASS STAGE
Prepare yourself as Filth brings deep and heavy wubs inside the Smirnoff House for an intimate explosion of bass.
🎧 FUNK CIDER SILENT DISCO w/ MOVES VS DAY BREAK CLUB VS GET DOWN CLUB
💃 MOVES Channel
Expect big house & party anthems! Your favourite party belters to keep you grooving all night long.
☀️ Day Break Club Channel
Expect summer, pool party and tropical vibes from the Day Break Club selectors.
🏝 Get Down Club Channel
Perth's best up and coming producers from the South-West providing the goods in house music.
🕺🏻 4 STAGES
🍾 11 POP UP BARS
🌌 SMIRNOFF SELTZER ROOFTOP TERRACE
🙈 CHEEKY MONKEY BEER JUNGLE
🍹 SMIRNOFF SELTZER DECK
🍸 THE HENNESSY PENTHOUSE
🌴 CAPTAIN MORGAN TROPICAL TIKI HUT
🍔 FEEDS BY VARSITY BURGERS
🎡 SUPERNOVA CARNIVAL RIDE
〜 W H E N 〜
Friday 18th February, 5PM - 11PM
〜 T I C K E T S 〜
Tickets on sale Monday 24 January, 6PM
〜  L I N E U P  〜
TBA
〜 B I R T H D A Y S 〜
Birthday coming up? Round up your mates and get in touch for exclusive birthday packages. DM us!
〜 S O C I A L S 〜
Insta ~ @voyagedayparty
Facebook ~ www.facebook.com/VoyageDayParty
Insta ~ @euphoriadayparty
Facebook ~ www.facebook.com/euphoriadayparty
Insta ~ @filthperth
Facebook ~ www.facebook.com/FilthPerth
Insta ~ @movesau
Facebook ~ facebook.com/movesau/
Insta ~ @thedaybreakclub
Facebook ~ www.facebook.com/itsdaybreakclub
Insta ~ @getdownclubevents
Facebook ~ www.facebook.com/GETDOWNCLUBevents
Voyage anchors down annual series of events showcasing special venues across our city.
** Strictly 18+ Event. Valid ID & Proof of vaccination is required on entry.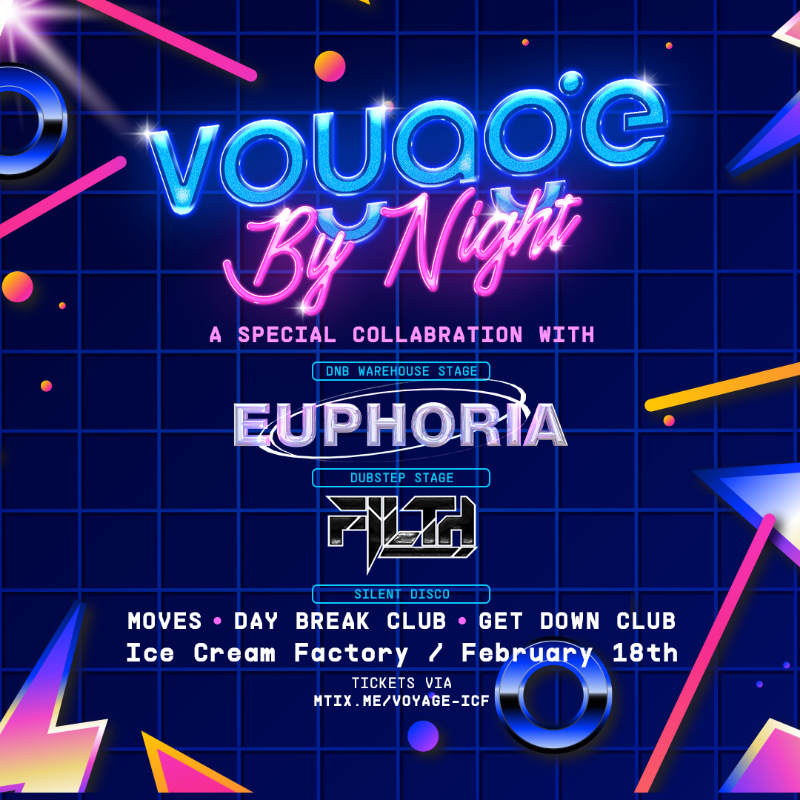 Venue Details
The Ice Cream Factory
92 Roe Street
Northbridge, WA, 6003