07:00pm, Sat 23rd Jul 2022
This event has already taken place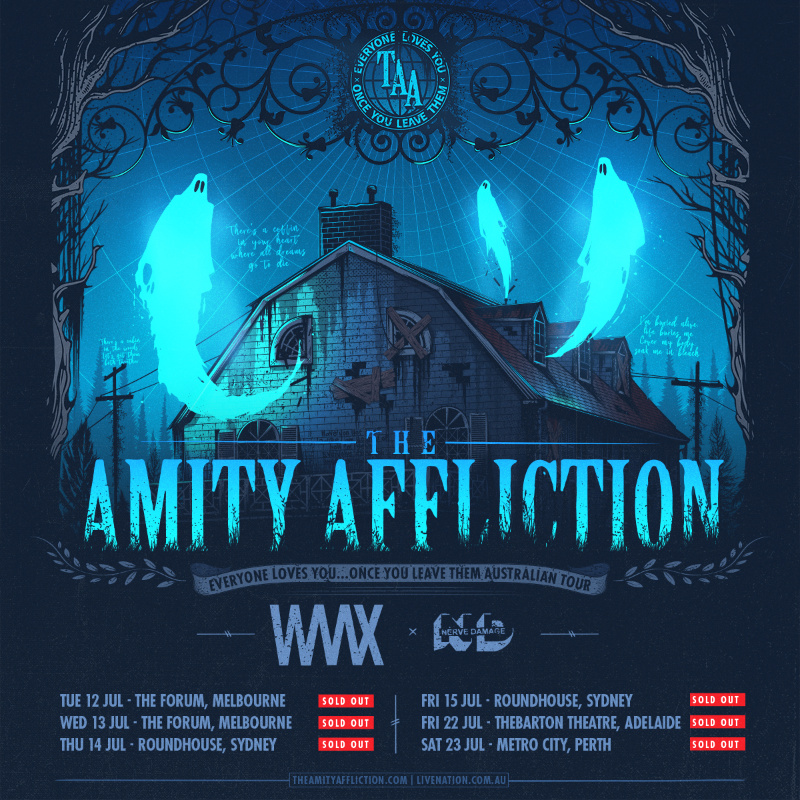 Venue Details
Metro City Concert Club
146 Roe St
Northbridge, WA, 6003
07:00pm, Sat 23rd Jul 2022
THE AMITY AFFLICTION




Announce their 'Everyone Loves You Once You Leave Them' 2021 Australian Tour




with WAAX & Nerve Damage
MELBOURNE, AU (FEB 16, 2021) – THE AMITY AFFLICTION, arguably one of Australia's biggest international  exports have today announced their 2021 Australian Tour in July with the support of WAAX and NERVE DAMAGE. Kicking things off at Sydney's Roundhouse on July 1, the tour will then see them perform in intimate venues around the country including Eaton Hill's Grand Ballroom, The Forum Melbourne and Thebarton Theatre, before wrapping things up in Perth's Metro City.
For complete tour and ticket information, visit: livenation.com.au.
THE AMITY AFFLICTION cocoon raw honesty in haunting hooks, pummeling grooves, and rapturous riffs. Since emerging in 2008, Joel Birch [vocals], Ahren Stringer [vocals, bass], Dan Brown [lead guitar], and Jon Longobardi [drums]— have served up two ARIA gold-certified albums, Youngbloods [2010] and Chasing Ghosts [2012], and earned a platinum certification from ARIA for the seminal Let The Ocean Take Me [2014]. This Could Be Heartbreak [2016] marked the band's second consecutive Top 30 debut on the Billboard Top 200, while Misery [2018] elevated them to new critical heights with praise from Medium, Alternative Press, The Noise, and more.
The Australian heavy quartet unearth a powerful truth on their seventh full-length and debut for Pure Noise Records, Everyone Loves You Once You Leave Them. 'We went back to our heavier side for the majority of the album," says Ahren. "We were trying to master the craft and write what we want to hear. Even though we're older, the maturity comes out a bit more with each record." "We just got back to a more of rock guitar sound," agrees Joel. "We wrote naturally, and it felt great."
Fresh from the 2020 release of Everyone Loves You Once You Leave Them, The Amity Affliction are set to perform in significantly more intimate venues than usual, allowing fans the chance to be much closer to them for undoubtably the heavy music tour of the year.
One of Australia's most electrifying punk bands, WAAX, emerged from Brisbane in 2015, possessing an intensity and captivating, barely-controlled chaos that had been missing from the local music scene for years. 2017's Wild & Weak EP saw their popularity grow exponentially off the back of tracks like 'Same Same' and 'This Everything,' as did their striking reputation as a live band. Radio soon stepped up to the plate and carried these honest and hard-nosed new tunes across the globe. Now we land at the next phase of their career and the immense new single 'Labrador.' It doesn't take long listening to realise that once again you're in brand-new WAAX territory in 'Labrador' – undeniably the biggest song of their career.
Immersed in the DIY backgrounds of Australian Punk/Hardcore/Heavy music, NERVE DAMAGE came together to speak up, and out about issues close to home. Forming in 2015, and releasing a demo not too long after, NERVE DAMAGE (ND) managed to get a string of international supports from the get go, which led to a run of interstate shows. Not too long after, ND did their first Close the Gap tape with fellow Brisbane band Manhunt. This set ND down the path of music with a message.
Don't miss your chance to see The Amity Affliction's Everyone Love's You Once You Leave Them 2021 Australian Tour, which is set to be undoubtably the heavy tour of the year!
* Over 18's only unless advertised otherwise. * Photo ID is essential,­ acceptable ID is a current and valid Australian Photo Drivers Licence or Passport. Please check with the venue for any other acceptable forms of photo ID * All children under 18 not permitted, even if accompanied by an adult * Intoxicated persons will not be admitted * No thongs or steel cap boots * The venue reserves the right to refuse admission to any person * Dangerous behaviour including Crowd Surfing, Stage Diving, Moshing and Violent Dancing is not allowed and will result in your immediate removal * Please contact the venue regarding accessibility requirements, some areas of the venue are not accessible *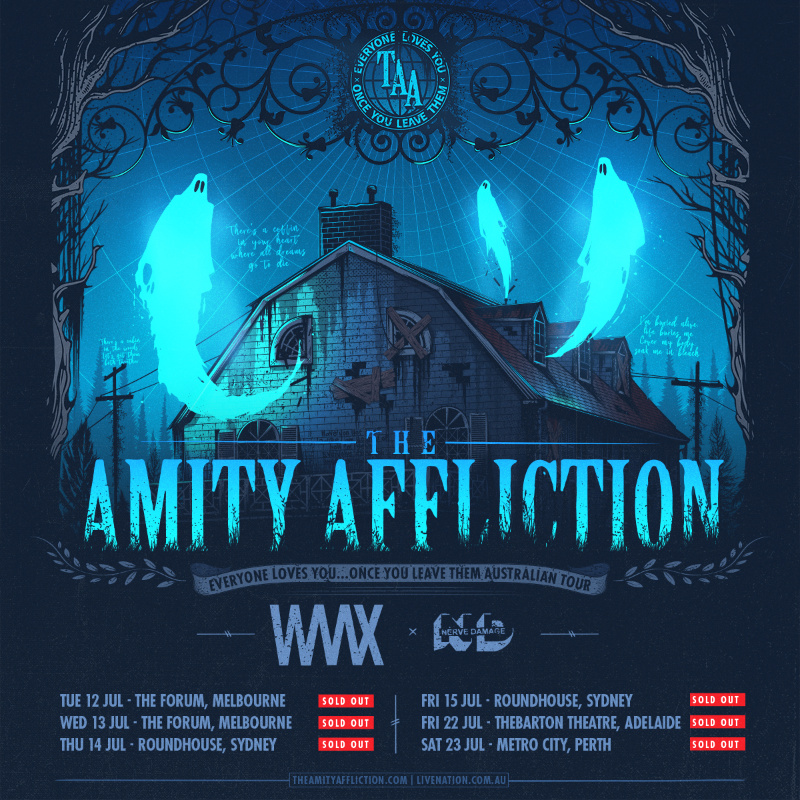 Venue Details
Metro City Concert Club
146 Roe St
Northbridge, WA, 6003