TAB Family & Friends 2.0 [ 'From TAB, With Love' EP Launch + 3rd B'Day ]
18+
05:00pm, Sun 3rd Jul 2022
This event has already taken place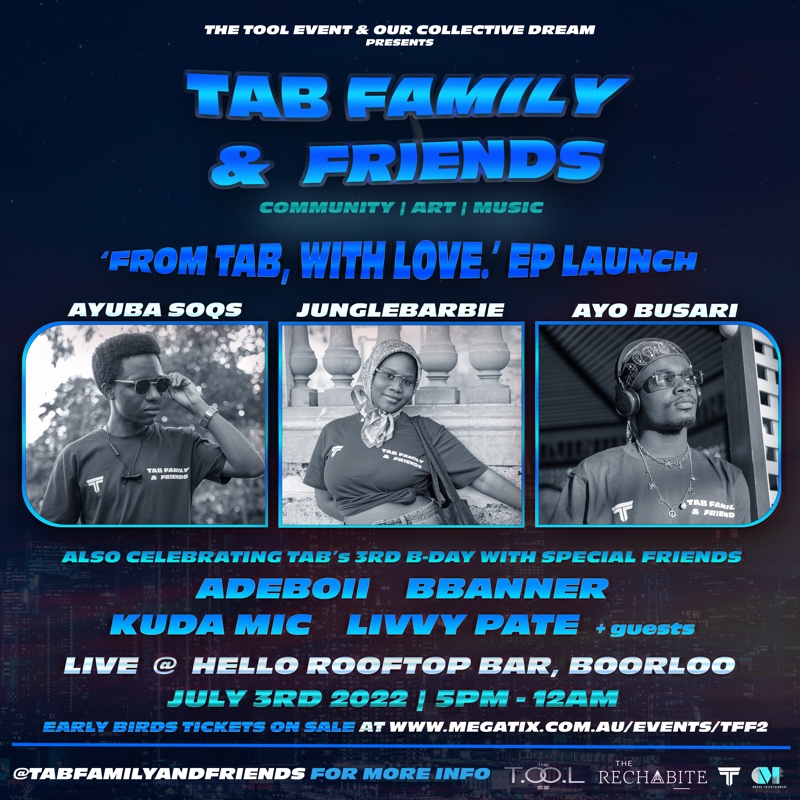 Venue Details
The Rechabite
224 William St
Northbridge, WA, 6003
TAB Family & Friends 2.0 [ 'From TAB, With Love' EP Launch + 3rd B'Day ]
18+
05:00pm, Sun 3rd Jul 2022
Join TAB Family & Friends at the launch of their debut ep 'From TAB, With Love' also featuring their Community and music Showcase in July. This creative show will bring together a diverse set of community, family and friends who have a shared interest in art and music.
The show will include a variety of music performances, Dj set alongside Special guests who are friends of TAB Family.
This show is set to leave you breathless and amazed. A collaborative effort of Perth local creatives, curated by Mohammed 'Ayo Busari' and Presented by The TOOL Event in Partnership with yd. & TAB Enterprises.
Join TAB Family & Friends and experience a world of irresistible talents and crafts.
Pre-Sale Tix $15
First Nations Tix - $10 All night/door sales (Please message us and we'll put you on our list)
Stay tuned for more x
_____________________________
We would like to acknowledge the traditional owners of the land this event will be taking place - the Whadjuk Noongar people.
We would also like to acknowledge that they will be hosting our event on this stolen and unceded land, as well as acknowledge and pay respects to their Elders, past, present and emerging and also to their continuing culture and the contribution they make to the life of this city and region we live in, birth ideas, create our arts, and work with a diverse set of artists and creatives.
We extend solidarity and hope for a future where all are afforded justice, assurance and freedom to live in unity, not feel like outsiders in a place called home and also having the time of our lives where and whenever. But before then we all need to acknowledge that this has always been and will always be Aboriginal Land. 
Please be aware that by entering this area, you consent to your voice, name, and/or likeness being used, without compensation, in films and tapes for exploitation in any and all media, whether now known or hereafter devised, for eternity, and you release The TOOL Event & Our Collective Dream, its successors, assigns and licensees from any liability whatsoever of any nature. Do not enter this area if you do not with to be subject to the foregoing.
Therefore, by entering this event site you agree to being filmed or photographed which may be used for marketing or promotional purposes.
All Tickets are non-refundable except if event is cancelled.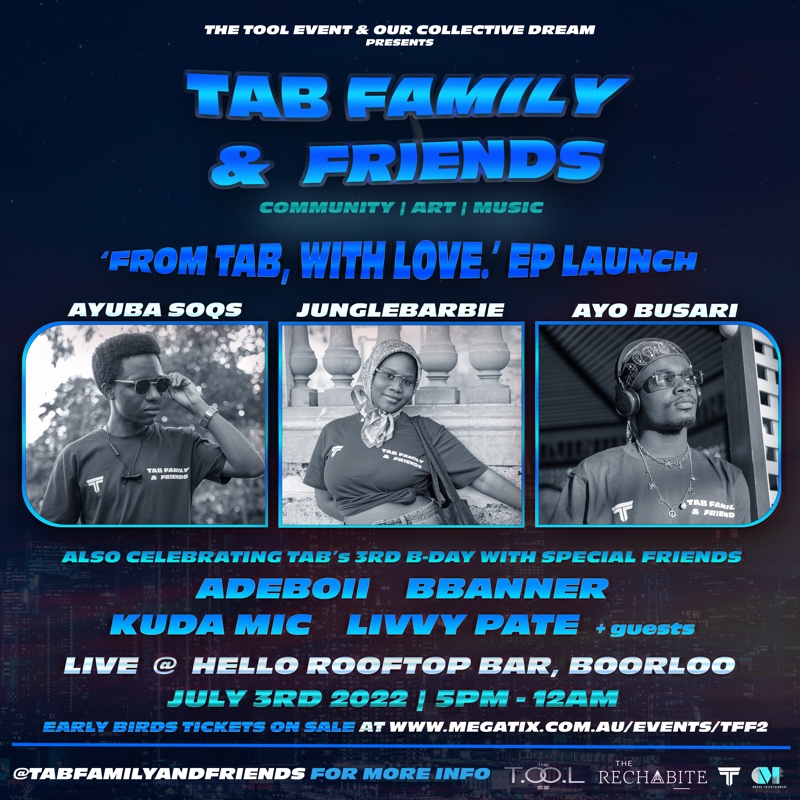 Venue Details
The Rechabite
224 William St
Northbridge, WA, 6003