09:00pm, Sat 10th Jun 2017
This event has already taken place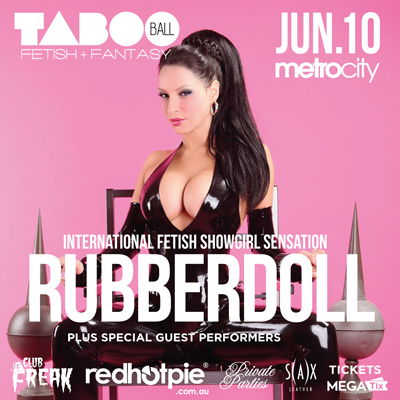 Venue Details
Metro City Concert Club
146 Roe St
Northbridge, WA, 6003
09:00pm, Sat 10th Jun 2017
Club Freak presents the 1st Annual TABOO BALL :: featuring RUBBERDOLL
++  T A B O O  B A L L  ++
- featuring RUBBERDOLL all the way from Miami, Florida with her award winning Latex Fetish performance.
TABOO BALL 2017
The TABOO BALL is an adult fetish & fantasy party and by that we mean it's an open-minded, pansexual, kink-friendly, freak friendly dance party. You can expect to see and hear things you will never see in any other event. The music is edgier, harder, darker - the vibe is sexier, kinkier and definitely more friendly as you are enveloped in the warmth of a scene and a community that actually understands you.
R U B B E R D O L L (Miama FL, USA)
The most famous fetish performer and model of our time, the most recognized face in the fetish world and the hardest working performer in the industry - just some of the ways RubberDoll has been described. You will recognise her from her multiple appearances on the cover of Marquis magazine, Skin Two magazine to name some well known ones, or from her video appearances in Rubberized vols 1 - 5, Latex Lockup, Deviant Dolls or from her appearancess on the Fetishistas website to name a few.

If you were lucky enough to attend last years Berlin Fetish Weekend or the Montreal Fetish Weekend you would have seen her on stage performing and modelling, or at dozens of her appearances as she tours and performs.RubberDoll has interrupted her 2017 World Tour to come to Perth for our innaugural event and she is bringing her most famous routines for your enjoyment! This is a very rare opportunity to see one of the worlds top fetish entertainers right here in Perth.PLEASE NOTE: We will be placing an emphasis on the dress code at this event to create the absolute best atmosphere we can.
A M E L I A A R S E N I C (SYD)
Australia's undisputed Queen of Alternative Music Amelia Arsenic has been working madly on a killer set to perform for you at Taboo. Amelia has been working hard on her new album and we are VERY grateful she is taking time out of her touring and live performing schedule to come and share the latest in dark, tech, underground music. This is the cutting edge of music and mixing her passion and style with RubberDoll is sure to create a heady mix.
M A R K & L A N I DV8 (SYD)
Highly respected and univerally applauded Mark Deviate and his partner in rope Lani Deviate are quite literally stepping off the plane from their shows in New York, and stepping right onto the stage at Taboo to perform for you. We are SO EXCITED to have them here it's getting ridiculous. The Deviates are famous for their stage performances with rope in western bondage style, japanese shibari style and for mixing it up with aerial lyra hoops, excrutiating floor work and more. We can't wait to see what they perform for us.
2 X L A T E X F A S H I O N P A R A D E S
We are excited to be bringing you not one, but 2 amazing latex collections by top designers Suzi Homewrecker - the talent behind all of Club Freak's latex outfits over the past 4 years - as well as the debut show of Rubber Bunny Latex. Some of you may know of Rubber Bunny through the designers other passions Warped Photography or his involvement in local kink night Carnal Society. We are beyond thrilled to have both of these powerhouse talents to showcase their latest creations for you.
C I R C U S C A R N I S (PER)
LET THE MAYHEM COMMENCE! Perth's most infamous performing couple Reverend Butcher and the Princess of Pain take to the stage with a brand new act, just for the Taboo Ball! If you loved them at the Fringe Festival, wait unti you see what they can get up to on a fully operational death star! I mean Theatre Stage. You can expect blood, pain, shock and awe - if you are squeamish you might want to look away, or find comfort in the arms of an attractive stranger momentarily. Circus Carnis are the most infamous entertainers in Perth and for a good reason - you wont want to miss this.
P E E R R O P E (PER)
SEK and vella have performed their flawless style of Japanese shibari for Club Freak once before, and it remains the most incredible night in our club history. The tension in the room, and the passion between the two performers is real and visceral. Look for them at various locations throughout the venue as the night progresses, but as always DO NOT INTERRUPT.
BEATS BY:
DJ AMNESIA - Rhetoric, RTRFM, Dominate

DJ Jessica Kill - Club Freak, Sin Club, Hexx, Spank

DJ Liam - Club Freak, Sin CLub, Dominion

You can expect the maestros to create an incredible atmosphere as the night progresses through it's journey. From the depths of deep, dark electro to upbeat EBM and dance beats, and sliding back into 80's retro and synthetic vibes.
FIRST TIME TO A FETISH BALL?
We have complete guide as to what is expected and what to wear here: DRESS CODE: http://clubfreak.com.au/rules
* Over 18's only unless advertised otherwise. * Photo ID is essential,­ acceptable ID is a current and valid Australian Photo Drivers Licence or Passport. Please check with the venue for any other acceptable forms of photo ID * All children under 18 not permitted, even if accompanied by an adult * Intoxicated persons will not be admitted * No thongs or steel cap boots * The venue reserves the right to refuse admission to any person * Dangerous behaviour including Crowd Surfing, Stage Diving, Moshing and Violent Dancing is not allowed and will result in your immediate removal * Please contact the venue regarding accessibility requirements, some areas of the venue are not accessible *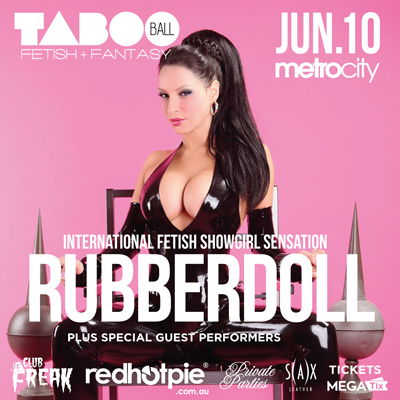 Venue Details
Metro City Concert Club
146 Roe St
Northbridge, WA, 6003