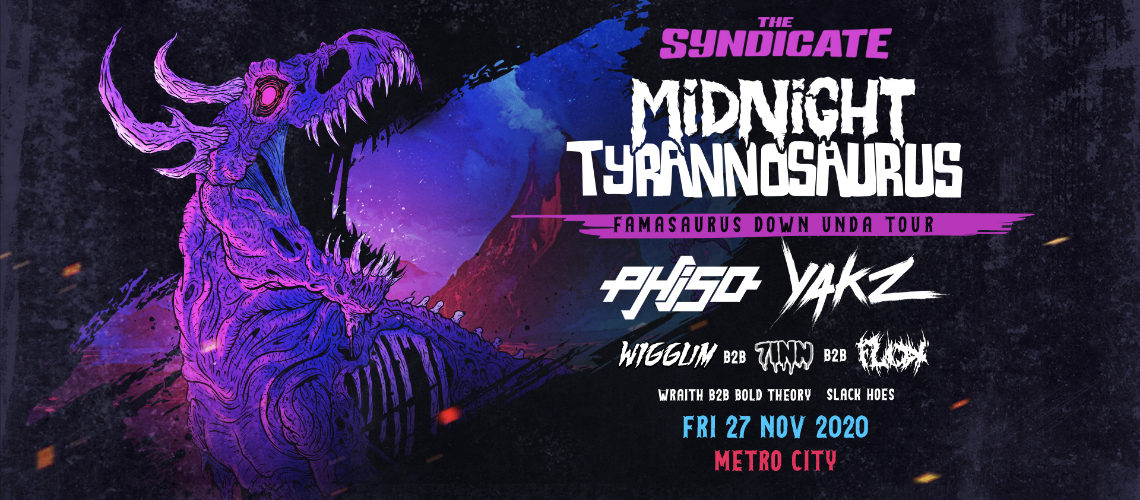 $28.98
$25.00 + $3.98 fee
$39.11
$35.00 + $4.11 fee
$51.47
$45.00 + $6.47 fee
$61.61
$55.00 + $6.61 fee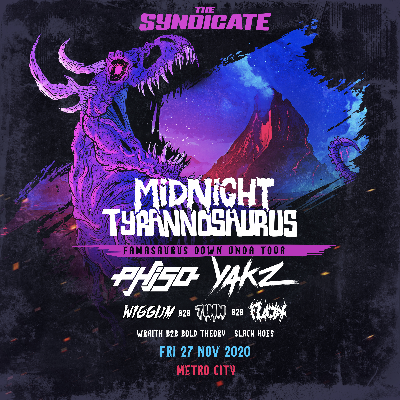 Venue Details
Metro City Concert Club
146 Roe St
Northbridge, WA, 6003
The Syndicate ft. Midnight Tyrannosaurus, Phiso, Yakz, Wiggum b2b 7Inn b2b Flick
18+
10:00pm, Fri 27th Nov 2020
We're stepping it up a notch…
THE SYNDICATE // NEW DATE // FRI NOV 27TH
METRO CITY TAKEOVER
 ft. Midnight Tyrannosaurus
'Famasaurus Down Unda Tour'
Phiso
Yakz
Wiggum b2b 7Inn b2b Flick
Wraith b2b Bold Theory
Slack Hoes
LET'S SEND IT!
* Over 18's only unless advertised otherwise. * Photo ID is essential,­ acceptable ID is a current and valid Australian Photo Drivers Licence or Passport. Please check with the venue for any other acceptable forms of photo ID * All children under 18 not permitted, even if accompanied by an adult * Intoxicated persons will not be admitted * No thongs or steel cap boots * The venue reserves the right to refuse admission to any person * Dangerous behaviour including Crowd Surfing, Stage Diving, Moshing and Violent Dancing is not allowed and will result in your immediate removal * Please contact the venue regarding accessibility requirements, some areas of the venue are not accessible *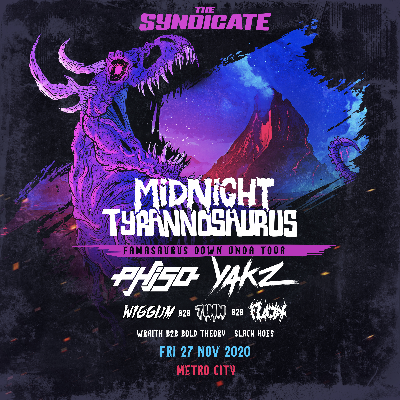 Venue Details
Metro City Concert Club
146 Roe St
Northbridge, WA, 6003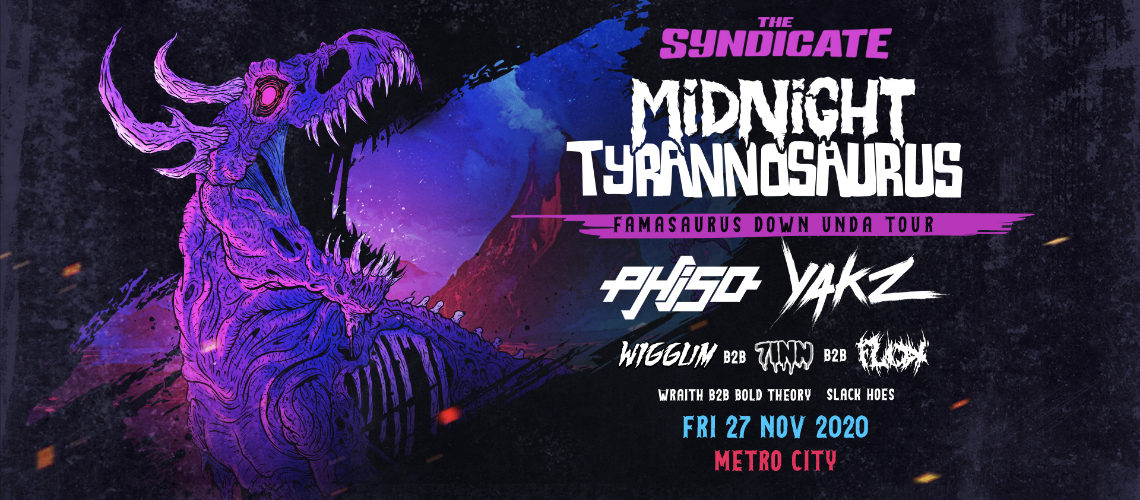 The Syndicate ft. Midnight Tyrannosaurus, Phiso, Yakz, Wiggum b2b 7Inn b2b Flick
18+
10:00pm, Fri 27th Nov 2020
$28.98
$25.00 + $3.98 fee
$39.11
$35.00 + $4.11 fee
$51.47
$45.00 + $6.47 fee
$61.61
$55.00 + $6.61 fee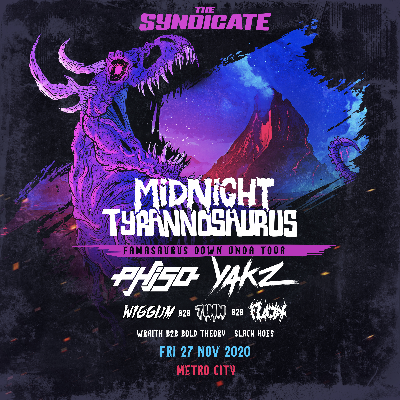 We're stepping it up a notch…
THE SYNDICATE // NEW DATE // FRI NOV 27TH
METRO CITY TAKEOVER
 ft. Midnight Tyrannosaurus
'Famasaurus Down Unda Tour'
Phiso
Yakz
Wiggum b2b 7Inn b2b Flick
Wraith b2b Bold Theory
Slack Hoes
LET'S SEND IT!
Venue Details
Metro City Concert Club
146 Roe St
Northbridge, WA, 6003
* Over 18's only unless advertised otherwise. * Photo ID is essential,­ acceptable ID is a current and valid Australian Photo Drivers Licence or Passport. Please check with the venue for any other acceptable forms of photo ID * All children under 18 not permitted, even if accompanied by an adult * Intoxicated persons will not be admitted * No thongs or steel cap boots * The venue reserves the right to refuse admission to any person * Dangerous behaviour including Crowd Surfing, Stage Diving, Moshing and Violent Dancing is not allowed and will result in your immediate removal * Please contact the venue regarding accessibility requirements, some areas of the venue are not accessible *