Spring Series: WAGFG Chef of the Year Dinner at Young George
06:30pm, Wed 29th Sep 2021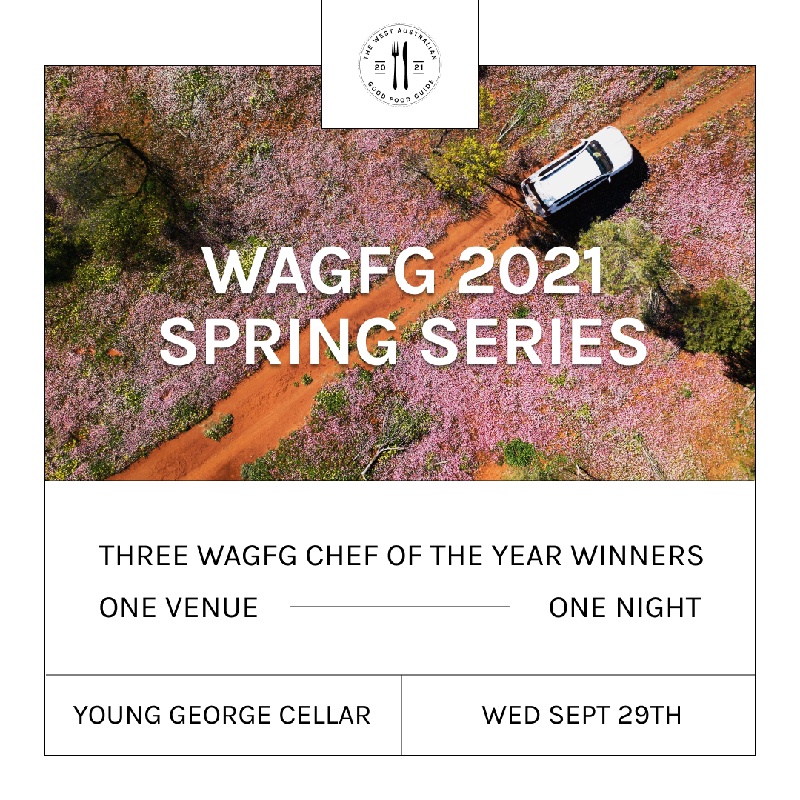 Venue Details
Young George
48 George St
EAST FREMANTLE, WA, 6158
Spring Series: WAGFG Chef of the Year Dinner at Young George
06:30pm, Wed 29th Sep 2021
One venue, one night only: WA Good Food Guide's Chef of the Year Winners are coming together for a very special collaborative dinner, and you're invited! Join us on Wednesday 29thSeptember at the Young George Cellar for an unforgettable evening of sensational dishes and paired McHenry Hohnen wines.  

In the lead up to the announcement of the WAGFG 2021 Chef of the Year, we can't help but celebrate the reigning successors. Guy Jeffreys (2017) Executive Chef of Fogarty Wine Group, Jed Gerrard (2018) ex-Executive Chef of Hearth at the Ritz-Carlton Perth, and Melissa Palinkas (2019), co-owner and Executive Chef of Young George and Ethos Deli + Dining, have curated a sublime dining experience that pays homage to the finest WA spring produce and reflects their culinary prowess and approach. 
This is one of the most special dining events on the WAGFG calendar and is not to be missed! 
DRINKS PROGRAM
WINES FROM MCHENRY HOHNEN 
2020 Marsanne Rousanne
2020 Laterite Chardonnay 
2019 Hazel Vineyard GSM
2018 Hazel Vineyard Syrah
plus a selection of innovative, matched non-alcoholic creations prepared by the Young George bar team
MENU 
SNACKS
Akoya Three Ways
Akoya Kilpatrick (Guy Jeffreys)
Akoya with native thyme butter crumb (Melissa Palinkas)
Akoya escabeche (Jed Gerrard)
Young George sourdough / nasturtium butter
SHARED ENTRÉES
Pickled black pearl mushrooms / black barley / fermented chilli (Melissa Palinkas)
Raw pumpkin salad / Fremantle octopus / smoked pumpkin-seed sauce (Guy Jeffreys)
Cambray cheddar dumplings / beetroot broth / native thyme (Jed Gerrard)
MAIN COURSES
Linley Valley Pork collar / pineapple / citrus (Melissa Palinkas)
Glacier 51 Toothfish / fermented brown rice glaze (Jed Gerrard)
SIDE DISHES (All Chefs)
Spring vegetables / Cambray sheep's boursan
Steamed leek / parmesan / tobiko
Potato galette
DESSERT
Cane cut semillion custard / bee pollen caramel (Jed Gerrard)
About the wines
McHenry Hohnen are passionate about their land; for this reason they aim to manage the sustainability of their vineyards using a range of practices that are ecologically sound. All of their viticultural practices nurture the biodiversity both within the soil microbiology that surrounds the vines and the insects and animals which are attracted to their healthy farm. McHenry Hohnen's vineyards are managed using biodynamic methods which are designed to improve the vitality and health of the soil and produce exceptional fruit that deliver a unique sense of place.
In the winery the approach reflects the same philosophy, with minimal intervention winemaking and the ultimate goal of crafting wines of distinctive character that are unique, honest and truly hand-made.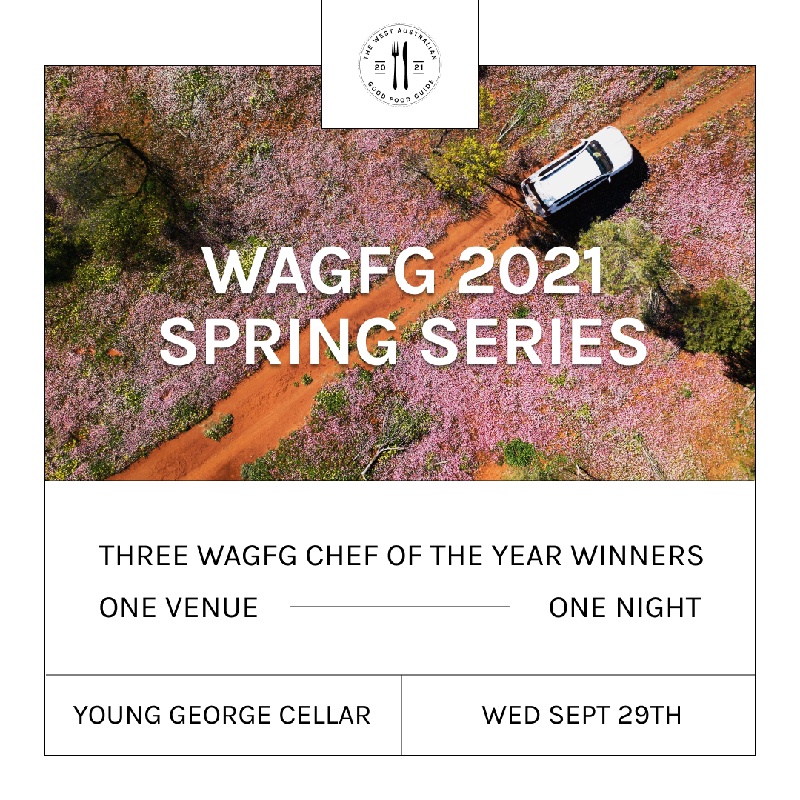 Venue Details
Young George
48 George St
EAST FREMANTLE, WA, 6158