Angus Wagyu Beef (25 Stick)
500gm Peanut Sauce
Peanut Sauce Frozen 500gm
Option 1 - Equal Mix
25 x Chicken, 25 x Wagyu Beef, 25 x Lamb, 1.5kg Sauce // Valued at $107.25
Option 2 - Chicken Lover Pack
100 x Chicken + 1.5kg sauce // Valued at $121
Option 3 - Meat Lover Pack
50 x Lamb, 50 x Wagyu Beef, 1.5kg sauce // Valued at $182.00
Option 4 - Satay Party Pack
100 X Chicken, 50 X Lamb, 50 X Wagyu Beef. 2.5kg sauce // Valued at $296.00
Please note: A one-off Delivery Fee of $5.00 per transaction applies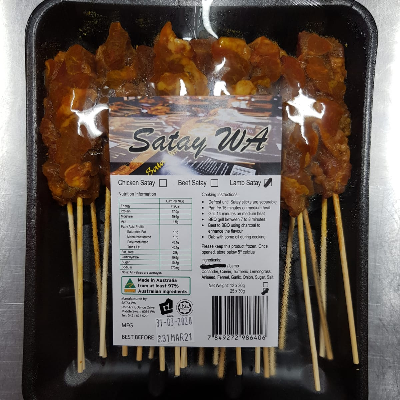 Venue Details
Satay WA
4/21 Dance Drive
Middle Swan, WA, 6056
SATAY WA

Founded in 2015, Satay WA is one of the leading Satay producers in Australia. We aim to provide a taste of Malaysia to our customers and our special marination will give you that instant street food experience. 
Satay WA are a frozen food producer, specializing in Authentic Malaysian Beef, Chicken and Lamb Satay. We are a HACCP endorsed company and have become a preferred producer of Satay for several 5-star hotels, sporting venues, private bars and grills, restaurants and market storeholders. 
Our Satays are now available in Perth, Melbourne, Sydney, Port Hedland and soon will be available in Brisbane. Please check with your local suppliers for more details. 
In Perth, we deliver to all areas within a 20km radius from the CDB area. Please email, message or private message us on facebook if you need more info.
Welcome to SatayWA online order page!
Please note: A one-off Delivery Fee of $5.00 per transaction applies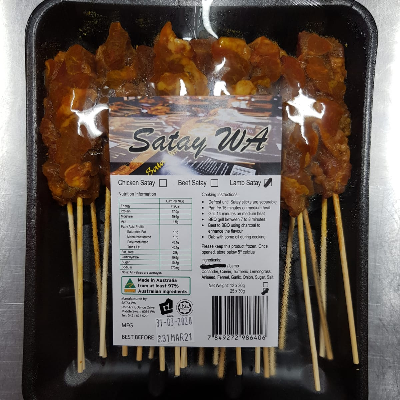 Venue Details
Satay WA
4/21 Dance Drive
Middle Swan, WA, 6056