07:30am, Sun 16th Aug 2020
This event has already taken place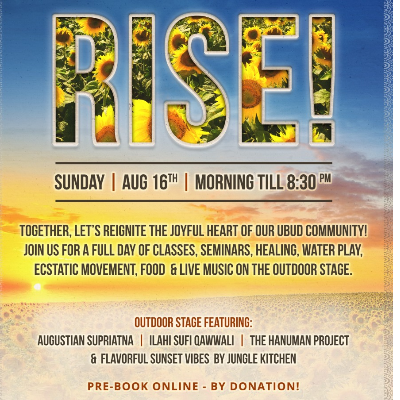 Venue Details
The Yoga Barn
Jln. Raya Pengosekan
Ubud, Bali, 80571
07:30am, Sun 16th Aug 2020
Sunday, Aug 16th
Morning till 8.30 pm
It's time to reignite the joyful heart of our Ubud community!
*Book your spot for FREE online so you can enter the event by donating on site!
Join us for a full day of classes, seminars, healing, water play, ecstatic movement, food  & live music on the outdoor stage.
Outdoor live music featuring: 
Augustian Supriatna
Ilahi Sufi Qawwali
The Hanuman Project
 & Flavorful Sunset Vibes by Jungle Kitchen 

Also featuring:
Art is Medicine - Go with the Flow with Fajar Kadafi
Paint with your body and the nature around you! ( no brushes! )
Pick up a canvas, get paint, go with the flow of the music, and
express your self doing art with your body.

<ENTRY BY DONATION!>
* Once you have registered online, you can just show up and make a donation for the artists at the stage.
A full buffet and drinks will be available for sale, but feel free to bring snacks and a blanket or pillow to sit on while you watch.
This outdoor picnic and concert is limited to 200 people to respect social distancing guidelines.
There is a huge heated Watsu pool available for swimming if you would like to use it, bring your bathers and a towel
The Yoga Barn daily seminars and classes are still happening. See the class info on the website - 'Schedule' page
*Classes are payable at reception.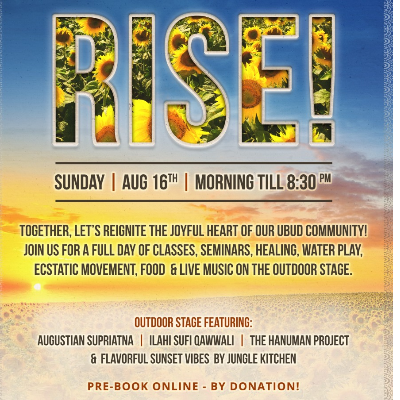 Venue Details
The Yoga Barn
Jln. Raya Pengosekan
Ubud, Bali, 80571