This event has already taken place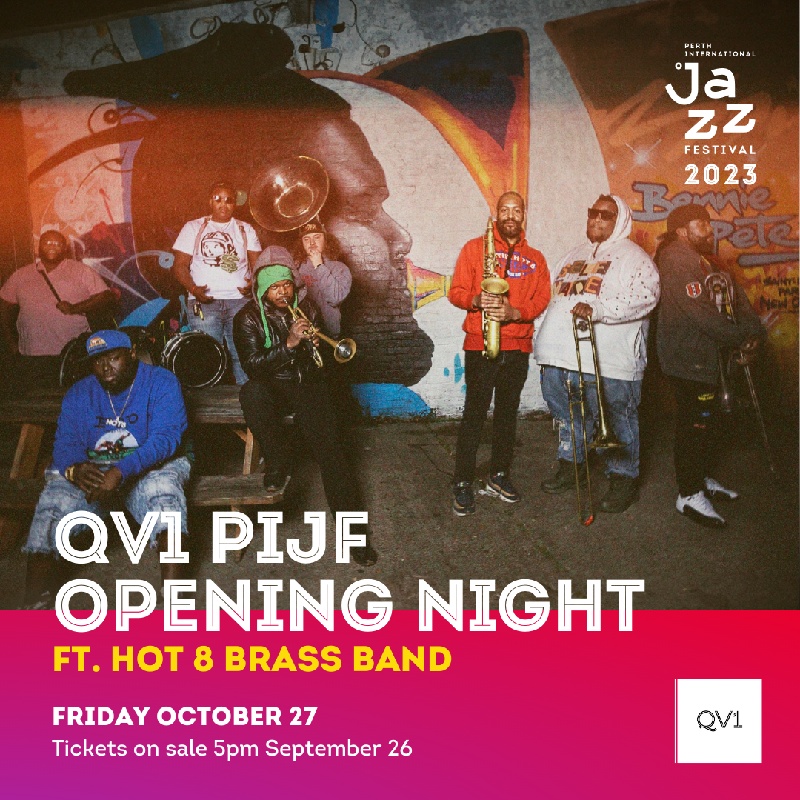 Venue Details
QV1 Plaza
250 St Georges Terrace
Perth, WA, 6000
Join us for the PIJF "Opening Night" extravaganza hosted at the iconic QV1 Plaza on Friday October 27, 2023.
We're bringing one of the biggest names in music all the way from the United States to grace our stage — Grammy Award-winning Hot 8 Brass Band, hailing from the vibrant city of New Orleans.
The official Opening Night promises to be the highlight of the 2023 program… picture a world-class venue providing 360-degree views of one of the most unique and dynamic international bands, seamlessly blending hip-hop, jazz, funk, and the traditional brass sounds of New Orleans. Welcome to an Opening Night event like no other.
Embracing the Friday night vibes, our valued guests will enjoy a variety of pop-up bars scattered throughout QV1 offering a premium selection of beverages including cocktails, spritzes, premium wines and beer.
Add to this a diverse range of culinary eats with QV1's Tiny's and Nippon Bar and Kitchen featuring pop-up food stalls to complete the First Class experience for what promises to be the biggest event on the 2023 PIJF calendar.
Thanks to our event partner QV1, we have made this exceptional, once-in-a-lifetime experience accessible with ticket prices starting from just $30 + booking fee.
Our mission is to bring world-class performers to Perth, revitalising the cultural event scene in our city. We invite you to be a part of this movement and join us in experiencing the soulful vibrancy of the QV1 Opening Night on October 27.
The evening will also feature the incredibly talented, local Perth-based band – Brass Party as the support act.
Please note this is an 18+ event due to licencing requirements.
Ticket Pricing
1st Release - $30 + booking fee
2nd release - $40 + booking fee
Final release - $50 + booking fee
Become a Jazz Messenger!
Are you a lover of jazz? Have you come to our festivals before and want to experience more? By becoming a 'Jazz Messenger' you reap the rewards AND get that fuzzy feeling of helping a worthy not-for-profit festival. Amongst many benefits, you also receive 10% off tickets to all jazz festival gigs! Please visit this webpage to become a Jazz Messenger!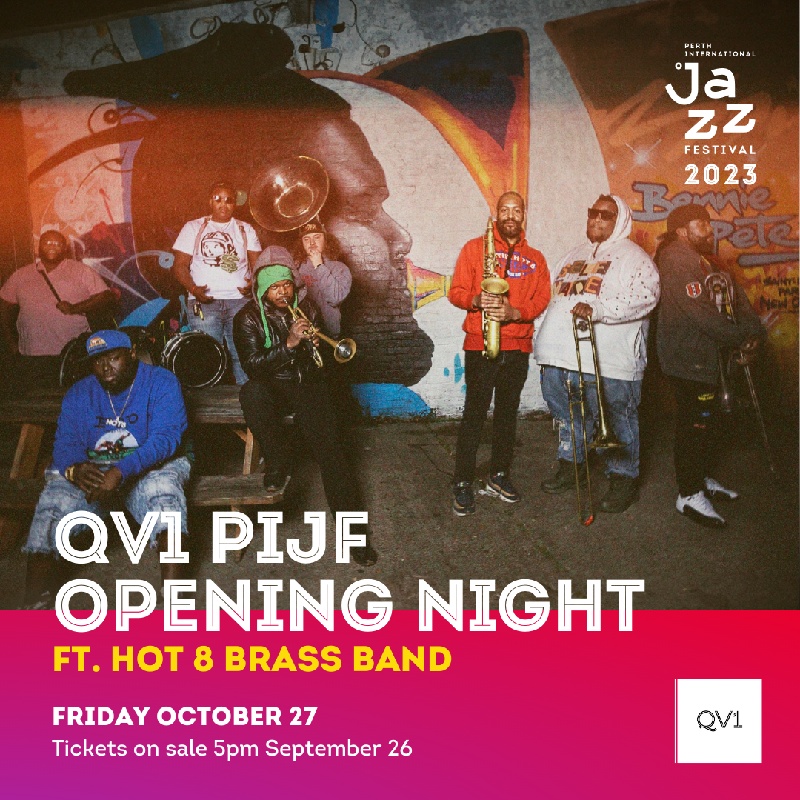 Venue Details
QV1 Plaza
250 St Georges Terrace
Perth, WA, 6000