03:30pm, Sat 21st Nov 2020
Final Release
Sales Closed
$56.50
$55.00 + $1.50 fee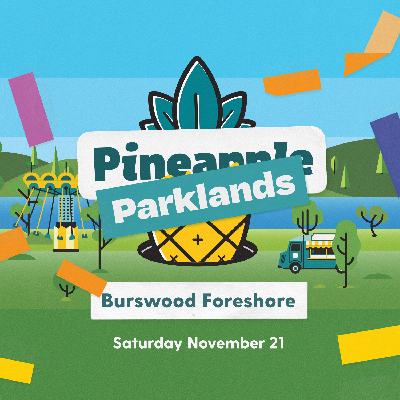 Venue Details
Burswood Foreshore
Resort Drive, Burswood Park
Burswood, WA, 6100
03:30pm, Sat 21st Nov 2020
Celebrate the best of Western Australia at an iconic riverside location.
PINEAPPLE PARKLANDS APPROVED
As some of you may be aware the Department of Health late last week reviewed the framework for large scale, COVID safe events. With those updates in play it has made Pineapple Club in its usual form unable to occur.
With that in mind, we have changed the format of Pineapple Club: The Return and introduce to you, Pineapple Parklands.
Pineapple Parklands will still feature the best of Pineapple Club, including:

Same beautiful, sunny day

Same riverside location

Same great local artists and music

Same festival site and vibes
You can expect:

More lounges, chill out zones and furniture

More food & drink offerings

More rides & games

A larger silent disco
What we unfortunately can't provide you is:
- The Big Pineapple and The Fruit Bowl (Stages)
- Areas to dance in large crowds (Mosh Pits)
 
We have been working hard to bring you an event since receiving this news late on Friday and we will deliver the best Pineapple experience we can, working with the Department of Health under the new COVID regulatory frameworks.
If however you would not like to spend your Saturday in the sun with us you can refund your ticket anytime before Wednesday 18th November using this link --> https://mtix.me/pineapple-refund
Refund requests will close 6PM Wednesday 18th Nov 2020.
Saturday November 21st
3:30pm - 9pm
 
Birthday Packages are SOLD OUT!
Early Birds: SOLD OUT
General Admission: SOLD OUT
Final Release: On Sale Now
 
/// FIVE FRIEND PACKAGE ///
Everything is better with friends, thats why we're offering you $10 off EACH ticket when you get your mates together and buy a Five Friend Package, saving you $50. Round up your crew of five and save them all some money, packages are limited.
 
Strapped for cash? Secure your ticket with our flexible payment plans, available from Thursday 12th March, 6pm.
If you're buying or selling second hand tickets, Tixel is the only safe way to do so to prevent scamming and scalping.
A selection of Perth's favourite food trucks.
We are proud to support Telethon Community Cinemas by incorporating their space into our festival site, with a portion of all ticket sales going towards the foundation.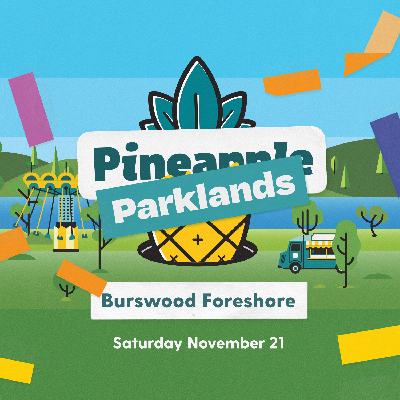 Venue Details
Burswood Foreshore
Resort Drive, Burswood Park
Burswood, WA, 6100