$119.61
$115.00 + $4.61 fee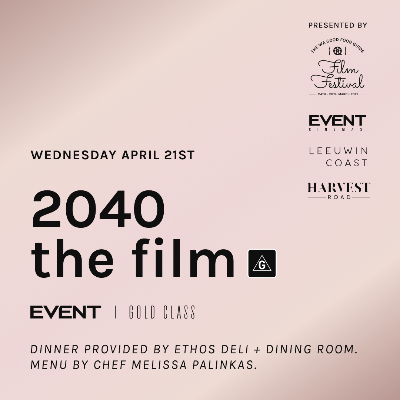 Venue Details
Event Cinemas Innaloo
57 Liege Street
Innaloo, WA, 6019
Prepare to be inspired!
Calling upon audiences to "join the regeneration" and embrace climate solutions, Damon Gameau's much-acclaimed documentary 2040 offers a bold vision of the future, practical solutions to repair an ailing planet, and above all, hope.
The WA Good Food Guide Film Festival showcases the talents of West Australian chefs and producers. Each screening has a thoughtfully curated food and beverage experience at its heart. For 2040, our opening event, there seemed to be no better chef than 2019 WAGFG Chef of the Year, Melissa Palinkas of Ethos Deli + Dining Room.
Melissa and her team put sustainability at the core of their innovative East Fremantle offering and their collaboration with WAGFG will be no different, dreaming up the perfect dinner box.
Acclaimed drinks guru Mike Bennie, our Director of Drinks, has curated a special match of WA wines to match boxes starring Frankland River Estate, Voyager Estate, Corymbia and Si Vintners drops.
Ethos will also be providing their innovative non-alcoholic drinks on the night. WA craft beers are also available from Gage Roads, Cheeky Money and Otherside.
Canapes on arrival 
Popcorn Akoya oysters
DINNER BOX
Coney Island Frank Dog using Rose Mallee Beef
Ethos signature potato latkes
Pumpkin burghl goats cheese salad
DESSERT
Whey gelato/plum/macadamia
Arrive early to meet chef Melissa Palinkas, grab a drink and get ready for an evening that will leave you inspired to save the world!
Special Notes
This is an 18+ event as each ticket includes two glasses of wine. One glass will be served on arrival, with the other during the session. Guests are asked to specify on check-in which wine variety they would like to receive with their meal
Non-alcoholic drink options are available including non-alcoholic wine. These do not reduce the cost of the ticket price
Wine can be substituted for beer, if of preference
Meals are served approximately 20-35 minutes into the film, in the form of boxes
Menus are set, and unfortunately, we cannot make variations to the food offering
Dessert is included
All efforts will be made to not disturb the viewing of the film; however seat service is a requirement in Gold Class Cinemas; we will do our best to make sure your viewing experience is a pleasant one!
Tickets are non-refundable, however can be transferred. In the event of a CV-19 stay at home order, tickets will be refunded
Questions about the screening can be directed to hello@wagoodfoodguide.com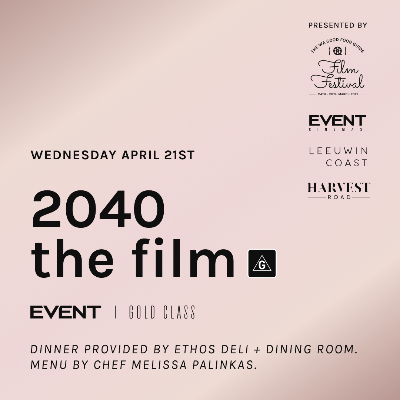 Venue Details
Event Cinemas Innaloo
57 Liege Street
Innaloo, WA, 6019