One Day presents: Friday Night Lights
18+
06:00pm, Fri 9th Aug 2019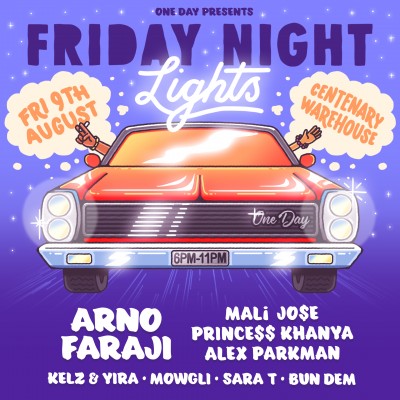 Venue Details
Centenary Pavilion - Gate 1
Gate 1, Claremont Showgrounds
Claremont, WA, 6010
One Day presents: Friday Night Lights
18+
06:00pm, Fri 9th Aug 2019
One Day Celebrate Their Return To Perth With A Massive Hip-Hop Warehouse Party: 
Friday Night Lights
Australia's most prolific hip hop party is returning to Perth this August to host our most insane event yet: Friday Night Lights.  Music, dance, lighting and visuals will illuminate the walls and surrounds of Centenary Warehouse, transforming the historic pavilion into a spectacular hip hop rave.
Headlining will be rising star ARNO FARAJI. Fresh from touring the country with Kwame, Cosmo's Midnight and Smino, Arno continues to put on for his hometown and show why he's one of Australia's most exciting acts.
Providing home town support are three of Perth's hottest emerging artists: MALi JO$E, PRINCE$$ KHANYAand ALEX PARKMAN. The diverse and powerful sounds of these 6K performers prove Perth is an incubator for hot hip hop talent.
DJ sets from Perth OGs KELZ & YIRA,MOWGLI, BUN DEMand DJ SARA T are prepped to shake the warehouse walls, joined on the ground with a dance performance led by the acclaimed choreographer ALEX MUBANGA.
With bars, food stalls and no work on Monday, this One Day event is guaranteed to sell out!
-----
One Day presents: Friday Night Lights
Friday 9th August, 6pm - 11pm.
Centenary Warehouse, Claremont Showgrounds.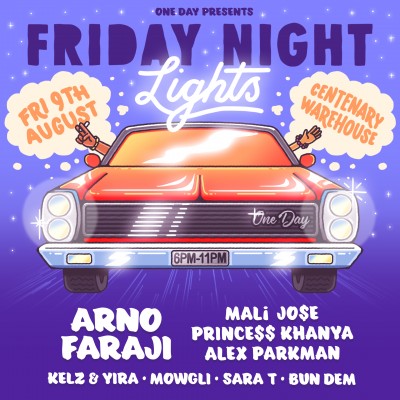 Venue Details
Centenary Pavilion - Gate 1
Gate 1, Claremont Showgrounds
Claremont, WA, 6010