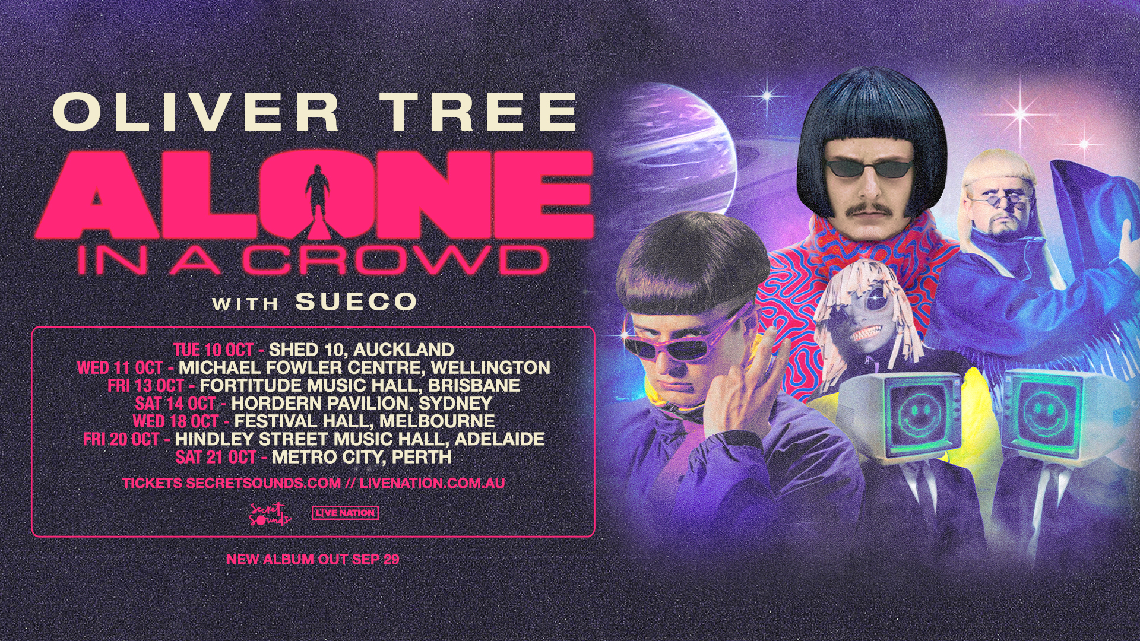 Oliver Tree Presents Alone In A Crowd
18+
08:00pm, Sat 21st Oct 2023
This event has already taken place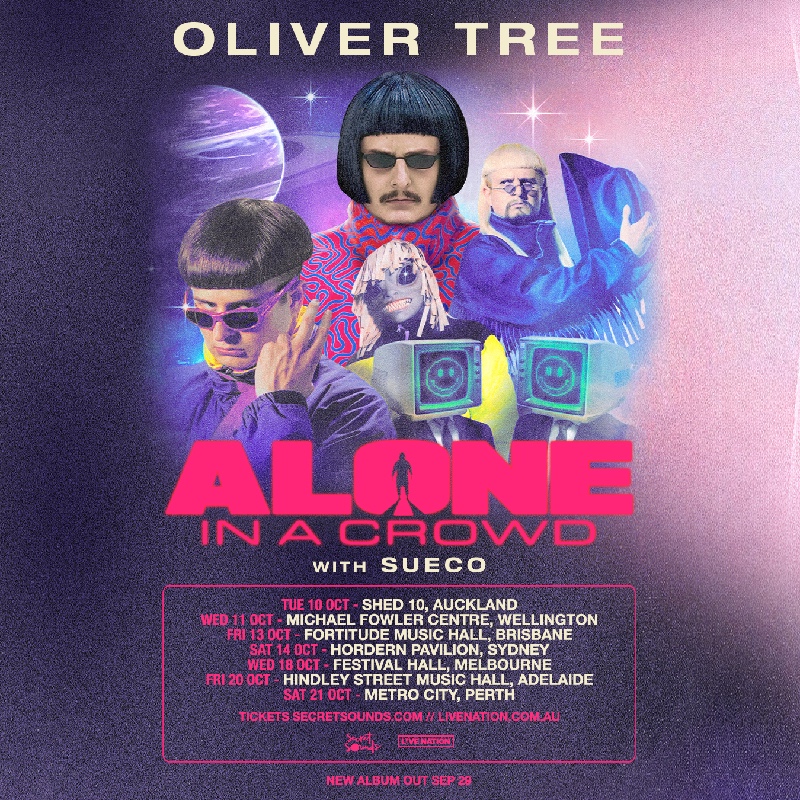 Venue Details
Metro City Concert Club
146 Roe St
Northbridge, WA, 6003
Oliver Tree Presents Alone In A Crowd
18+
08:00pm, Sat 21st Oct 2023
OLIVER TREE ANNOUNCES MASSIVE INTERNATIONAL RUN WITH AUSTRALIA AND NEW ZEALAND DATES
OLIVER TREE PRESENTS ALONE IN A CROWD
Internationally acclaimed, multi-Platinum, chart-topping artist Oliver Tree has announced a major world tour – his biggest headline run thus far. Produced by Live Nation, OLIVER TREE PRESENTS ALONE IN A CROWD gets underway October 10 at Auckland, NZ's Shed 10 and then travels through November with stops in Australia, France, Luxembourg, the UK, Belgium, the Netherlands, Germany, Switzerland, and Italy. Support includes Sueco (AUS/NZ) and Tommy Cash (EU/UK).
OLIVER TREE PRESENTS ALONE IN A CROWD  heralds the eagerly awaited arrival of Oliver Tree's upcoming third solo album, ALONE IN A CROWD, arriving via Atlantic Records on Friday, September 29.
A one-of-a-kind artist who continues to top the charts and sell out amphitheaters worldwide, Oliver Tree explore and dissects the absurdity of modern culture, fame, and social media with Dadaist meta-humor unlike any other. ALONE IN A CROWD – which introduces a new character to Tree's surrealistic universe, fashion designer Cornelius Cummings – serves to reflect both the light and the darkness of human nature within popular culture, holding up a mirror while simultaneously embracing the absurdity of it all through rich themes of loneliness, disconnection, and the ridiculousness of our shared human experience.
Now boasting more than 5B global streams, over 2B YouTube views, over 15M TikTok followers, and an cumulative social reach of over 30M, Oliver Tree has already had a very productive 2023 with such electric releases as his first-ever collaboration with fellow superstar David Guetta, "Here We Go Again," streaming now HERE. An official lyric video, written and directed by Oliver, has earned over 14M views via YouTube HERE.  "Here We Go Again" in turn followed KSI's "Voices (Feat. Oliver Tree)," joined by an official music video now boasting close to 7M views HERE.
With over 20M monthly listeners on Spotify, Oliver wrapped up his very busy 2022 with the long awaited release of COWBOY TEARS DROWN THE WORLD IN A SWIMMING POOL OF SORROW, an expanded deluxe edition of his acclaimed sophomore LP, COWBOY TEARS, available now HERE. Highlights include such favorites as "I Hate You," "Placeholder," and "Suitcase Full Of Cash," the latter accompanied by an official visual featuring guest appearances from viral stars Alissa Violet, Tana Mongeau, Viking Barbie, and  Melissa Ong, streaming now at Oliver's YouTube channel HERE.
* Over 18's only unless advertised otherwise. * Photo ID is essential,­ acceptable ID is a current and valid Australian Photo Drivers Licence or Passport. Please check with the venue for any other acceptable forms of photo ID * All children under 18 not permitted, even if accompanied by an adult * No Passouts / Re-entry * Intoxicated persons will not be admitted * No thongs, slides or steel cap boots * The venue reserves the right to refuse entry, remove from a venue and/or issue a temporary suspension or ban to any person * Dangerous behaviour including Crowd Surfing, Stage Diving, Moshing and Violent Dancing is not allowed and will result in your immediate removal * Please contact the venue regarding accessibility requirements, some areas of the venue are not accessible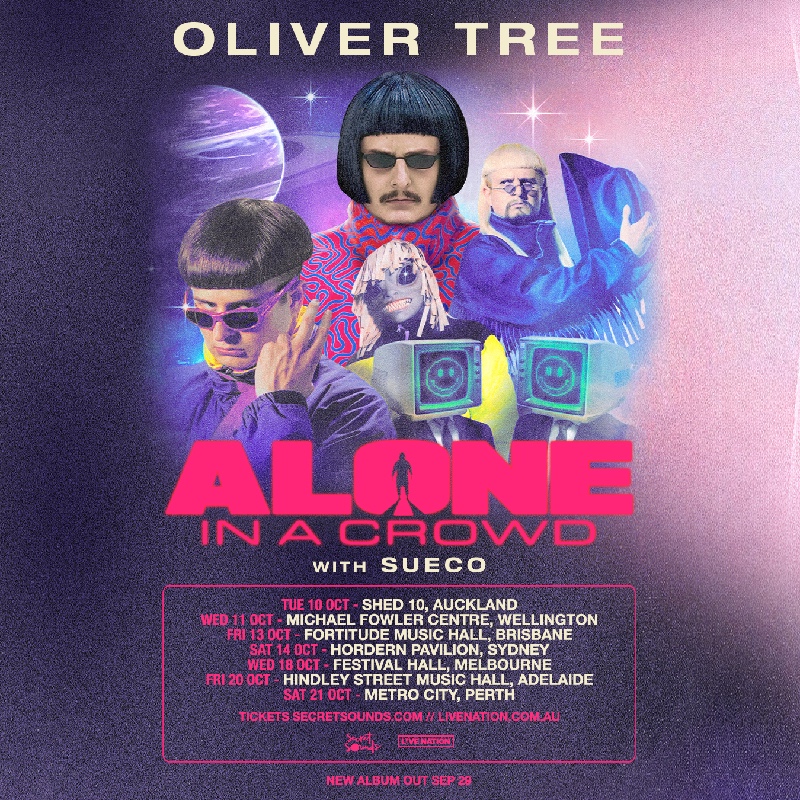 Venue Details
Metro City Concert Club
146 Roe St
Northbridge, WA, 6003