The Night Market NYE Party Ft Elise Keddie
18+
08:00pm, Mon 31st Dec 2018
This event has already taken place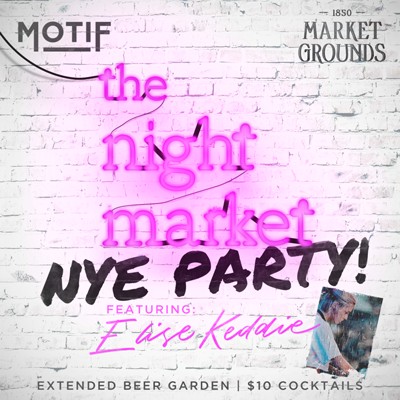 Venue Details
Market Grounds
10 Telethon Avenue,
Perth, WA, 6000
The Night Market NYE Party Ft Elise Keddie
18+
08:00pm, Mon 31st Dec 2018
The Night Market // NYE PARTY 

After so many enquiries whether The Night Market would be hosting a NYE event... we've decided to give the people what they want!

With an extended beer garden area, three times the current size with a pop up bar & seating throughout. This will be the biggest night Market Grounds has ever seen!

Everyone's favorite DJ - The Queen elise keddie will behind the decks & she has a few surprises for you... come the count down!

This new double story venue is in a class of it's own - with booths throughout, sunken lounges, outdoor beer garden & 3 permanent bars + 1 special pop up bar for the night. This NYE is sure not to disappoint. 

 When 
Dec 31st NYE // 8pm - 2am

 Tickets 
$15 first release (Avail midday 5th October)
$20 final release (Avail once 1st release sold out)
To purchase a booth, please DM Motif for more info.

 Entry 
Ticketed, will be sold out prior to the night - No door sales 

 $10 Cocktail Specials from 8pm  
MG Daisy → house limoncello, rhubarb and cinnamon syrup, apple sode
House Aperol Spritz → aperol, prosecco, grapefruit juice, peach bitters, soda, mint
East 8 Tropicana → Aperol, vodka, pineapple juice, lime, Redbull Tropicana, mint

Under the dance floor's neon lights, you'll find The Night Market.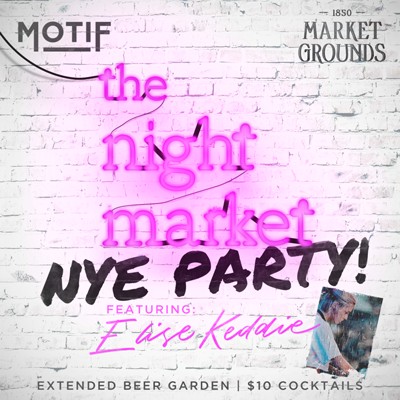 Venue Details
Market Grounds
10 Telethon Avenue,
Perth, WA, 6000