Motif Open Air ft. HAYDEN JAMES (live)
18+
05:00pm, Fri 9th Dec 2022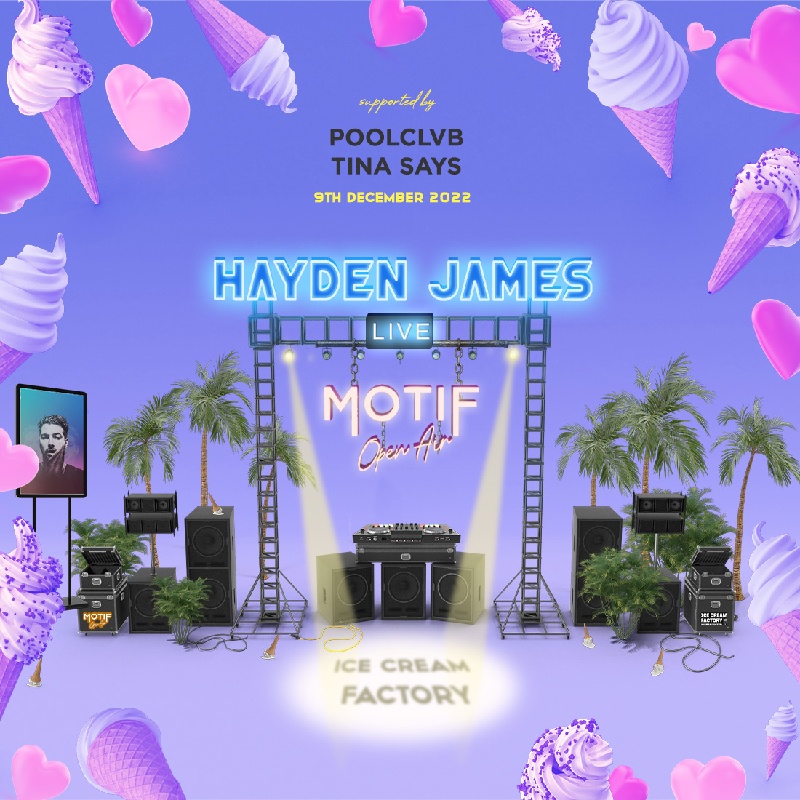 Venue Details
The Ice Cream Factory
92 Roe Street
Northbridge, WA, 6003
Motif Open Air ft. HAYDEN JAMES (live)
18+
05:00pm, Fri 9th Dec 2022
We're back at Ice Cream Factory for our biggest show to date!
 Motif Open Air ft: Hayden James (Live) 
He will be bringing his full live show as our huge headline act as part of the worldwide 2022 LIFTED tour. This will be your only chance to see Hayden James in Perth this year!
 Ice Cream Factory venue takeover

 Motif's Warehouse

 Bar Pop site creation

 Cali Tower stage

 Double decker open air rooftop

 3 channel outdoor silent disco

 11 Pop up bars

 Festival stage production

 Multiple food trucks

 Karaoke back alley stage

 Show rides & games

 Friday Dec 9th, start of silly season!
 Tickets 

1st Release - SOLD OUT
2nd Release - Less than 200 left!
 Artists 

HAYDEN JAMES
https://open.spotify.com/artist/4csQIMQm6vI2A2SCVDuM2z
https://music.apple.com/us/artist/hayden-james/348788533
Support by:
POOLCLVB
Tina Says
Motif DJ's
Cali Club DJ's
 Silent Disco channels 

The Night Market 

Cookie Loco 

Soulsbys 
Birthday or coming on a party bus

Celebrating with 15 friends or more? DM us for special treatment.
---------------------------------------
Hayden James
After returning home from his largest North American and European tour to date, Hayden is bringing his 'Lifted' tour to AUS and NZ, for his biggest headline domestic run of shows yet!
With a collection that has amassed over half a billion streams Hayden James has hooked a global audience to his signature sound, with iconic songs such as 'Better Together' + 'Something about you' & 'Just Friends". This tour will not only showcase his highly coveted second album 'Lifted', but it will also highlight Hayden's passionate, energetic and fun-loving vibe that encompasses his music and live performances.
The 'Lifted' tour will be Hayden James's most captivating one yet!
18+ event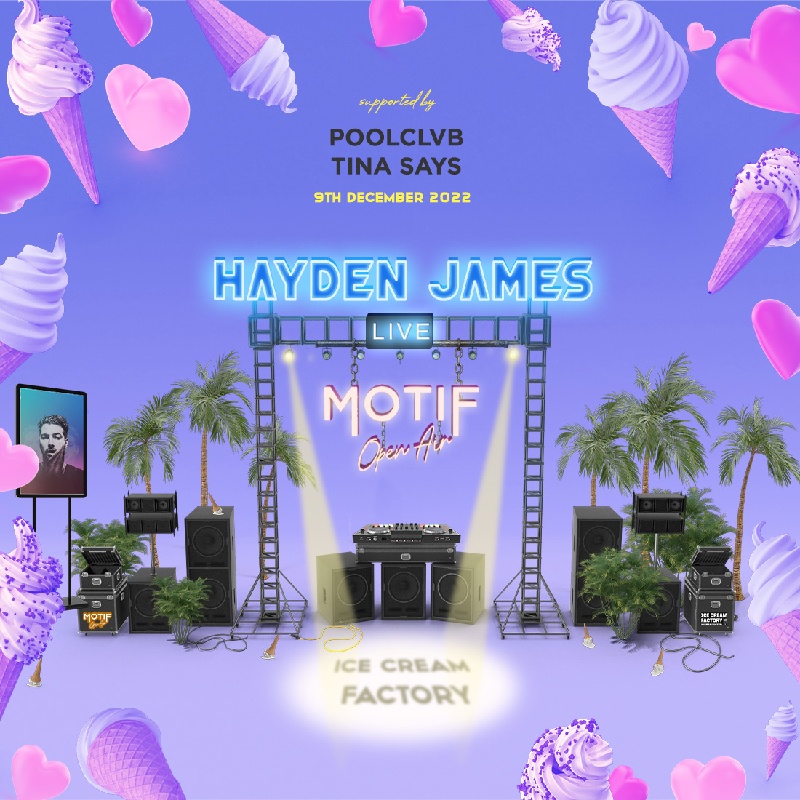 Venue Details
The Ice Cream Factory
92 Roe Street
Northbridge, WA, 6003