Ministry of Sound: Testament — Perth, 5th & 11th August 2023
18+
This event has already taken place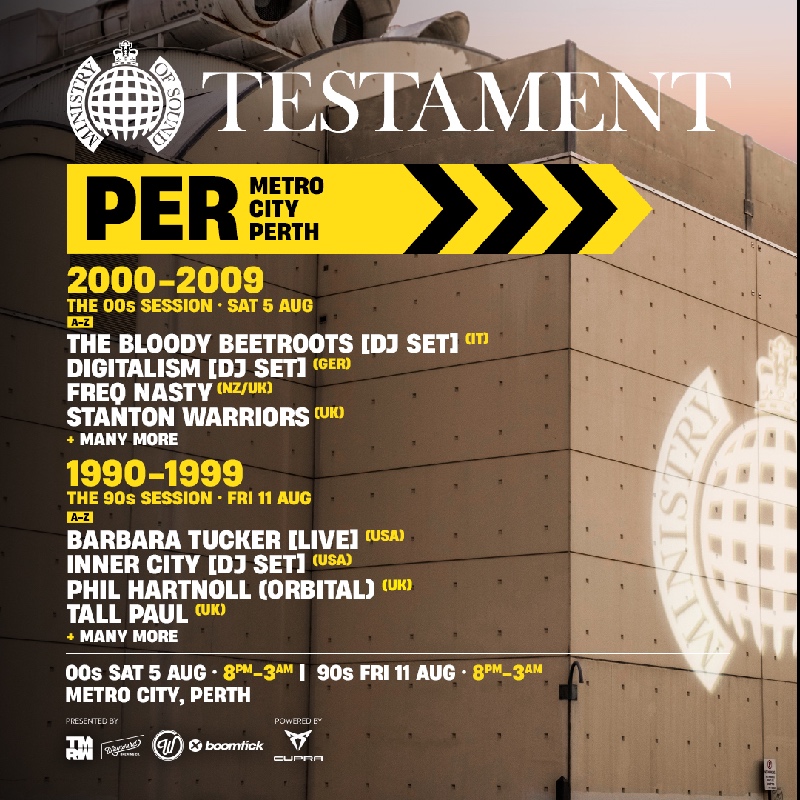 Venue Details
Metro City Concert Club
146 Roe St
Northbridge, WA, 6003
Ministry of Sound: Testament — Perth, 5th & 11th August 2023
18+
— A TESTAMENT TO THE LEGEND OF 90S & 00S CLUB CULTURE —
Over the decades pockets of dimly lit, late night, often secretive locations around the country provided the backdrop to the cathartic ritual of dance. From Australia's acid house infancy to the many reinventions of rave through the 90s and the peak of 00s nightlife, communities were formed on the dancefloor, cemented over deep 4am conversations had in the safety of a likeminded hive of excitement, escape and elation. This unmatched era of nightlife has become the stuff of folklore and legend.
TESTAMENT pays tribute to the sounds and the people of this club generation, and the vibrant late-night cities and cultures across the country which they cultivated.
With an impressive revival of each cities' local DJ talent of the era, this tour welcomes global icons to the lineup, whose influence is woven into the fabric of modern club life; with house music queen Barbara Tucker (USA), Detroit Techno pioneers Inner City (USA), English DJ/Producer Tall Paul (UK), and Phil Hartnoll of iconic UK acid-house-meets-trance duo Orbital – all bringing their 90s mastery to Metro City on Fri 11 Aug.
On Sat 5th Aug, audiences will be transported directly back to well-worn naughties dancefloors with a 1,2 Woop Woop as masked electropunk The Bloody Beetroots (IT) take centre stage, alongside Kitsuné 00s electronica darlings Digitalism (GER), and legends of breaks Freq Nasty (NZ/UK) and Stanton Warriors (UK). 
Joining the national touring party are the Australian DJs synonymous with Ministry of Sound – Goodwill, John Course, Groove Terminator and Mark Dynamix – who between them compiled and mixed album titles which went on to sell millions of copies through the decades across The Annual, Sessions, Clubbers guide and more.
—
SESSION ONE / 00s - SAT 5 AUG / 8pm - 3am
Featuring: The Bloody Beetroots (IT) / Digitalism (GER) / Freq Nasty (NZ/UK) / Stanton Warriors (UK)
Plus: Bang Gang Deejays / Blend / Goodwill / Groove Terminator / Micah / Milly / Mono Lisa / Philly Blunt / Roller DJs / Rudy
SESSION TWO / 90s - FRI 11 AUG / 8pm - 3am
Featuring: Barbara Tucker (USA) / Inner City (USA) / Phil Hartnoll (UK) / Tall Paul (UK)
Plus: Kevin / Hutcho / John Course / Mark Dynamix / Menis / Rachel Harvey / Rousa / Royce / Sardi
//
Tickets are valid for single entry on the date specified on the ticket only.
To attend both sessions you must purchase valid tickets for both dates.
* Over 18's only unless advertised otherwise. * Photo ID is essential,­ acceptable ID is a current and valid Australian Photo Drivers Licence or Passport. Please check with the venue for any other acceptable forms of photo ID * All children under 18 not permitted, even if accompanied by an adult * No Passouts / Re-entry * Intoxicated persons will not be admitted * No thongs, slides or steel cap boots * The venue reserves the right to refuse entry, remove from a venue and/or issue a temporary suspension or ban to any person * Dangerous behaviour including Crowd Surfing, Stage Diving, Moshing and Violent Dancing is not allowed and will result in your immediate removal * Please contact the venue regarding accessibility requirements, some areas of the venue are not accessible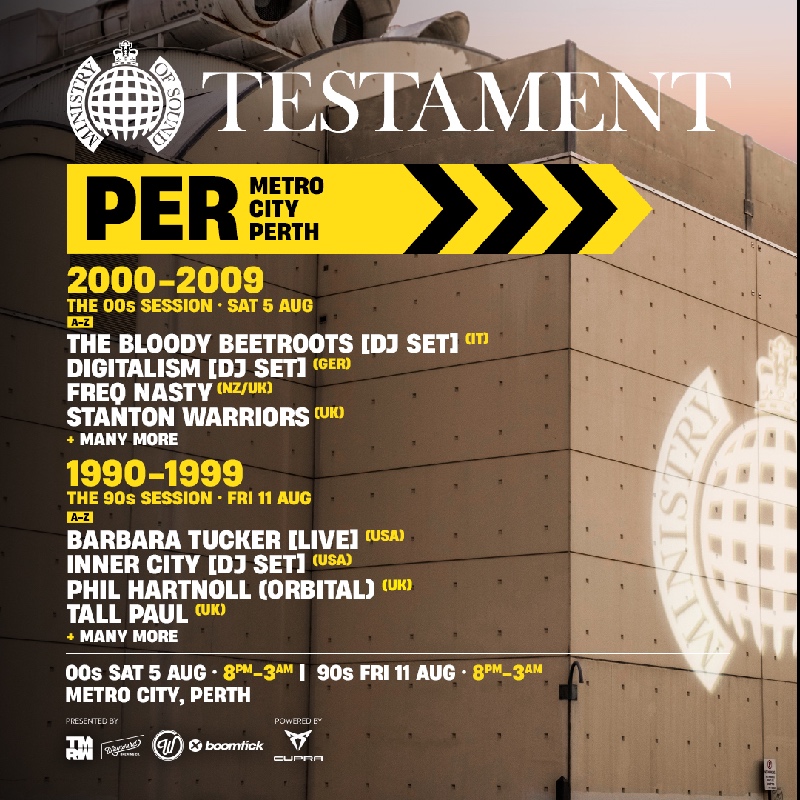 Venue Details
Metro City Concert Club
146 Roe St
Northbridge, WA, 6003