Mallrat - Driving Music Tour
18+
08:00pm, Sat 5th Jun 2021
$47.42
$40.00 + $7.42 fee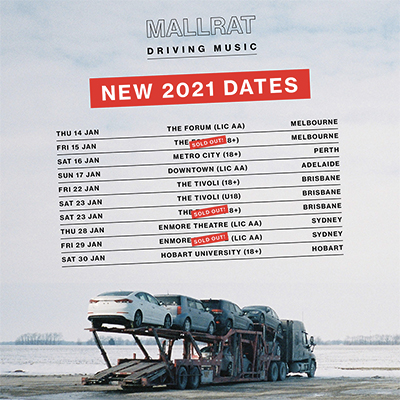 Venue Details
Metro City Concert Club
146 Roe St
Northbridge, WA, 6003
Mallrat - Driving Music Tour
18+
08:00pm, Sat 5th Jun 2021
Please be advised that due to ongoing border restrictions within Australia, the Mallrat show scheduled for this Saturday has been further postponed.
We apologise the inconvenience this may cause, and thank you for your understanding in such uncertain times.

The rescheduled date will be Saturday 5th June 2021. All tickets are automatically valid for this new date with no further action required, and we encourage you to support the artists, venues and those in the industry who have been impacted greatly by COVID-19 and #keepyourticket.
If you cannot make this new date, you may apply for a refund via
this link
before Tuesday 19th January. Refunds will be automatic and back onto the card used for purchase, and will be processed after the 19th. After this point, funds usually take 3-5 working days to return.

MALLRAT ANNOUNCES MASSIVE NATIONAL TOUR
PLAYING THEATRES AROUND THE COUNTRY THIS MAY AND JUNE
+ 'CHARLIE' GOES GOLD TO ADD TO ITS HOTTEST 100 #3 PLACING
Fresh from claiming the #3 spot on the Hottest 100 of 2019 with 'Charlie' and lighting up music festivals all summer long, the dreamy Queen of Australian pop, Mallrat, today announces her largest national tour ever, starting this May.
Mallrat, real name Grace Shaw, will play to packed out theatres across the country, starting in Adelaide on May 15, before floating across to Perth, and then returning to the east coast to perform in Melbourne, Sydney, and finally a triumphant homecoming to Brisbane.
These shows will be the culmination of a massive few months for the 21-year-old singer-songwriter-producer, after her third EP Driving Music, catapulted her to a whole new level of international fame. Propelled by the heart-melting lead single 'Charlie' (which recently achieved GOLD status, having sold 35,000 units), the EP has been universally acclaimed, and saw her achieve a huge amount of new success – from her incredible Hottest 100 result, to appearing on US TV for the first time (The Late Late Show with James Corden), touring across the US and Europe with good friends Maggie Rogers, King Princess and Allday, and seeing multiple singles achieve Gold and Platinum statuses.
LISTEN TO MALLRAT'S LATEST EP DRIVING MUSIC HERE
Still only three EP's into her career, Mallrat's success at this stage in her musical life is almost unparalleled. Each of her releases, Univited (2016), In The Sky (2018) and Driving Music (2019), have seen her expand artistically and creatively from record to record – her ambition only matched by the momentum she's been able to maintain to this current career peak.
Now she's deep in the process of writing and recording her debut album, already being touted as one of the most highly anticipated releases of the year. With these shows set to sell out fast, this will be your last chance to see one of Australia's truly amazing songwriting talents before her career takes off into the stratosphere. Tickets on sale from February 18.
* Over 18's only unless advertised otherwise. * Photo ID is essential,­ acceptable ID is a current and valid Australian Photo Drivers Licence or Passport. Please check with the venue for any other acceptable forms of photo ID * All children under 18 not permitted, even if accompanied by an adult * Intoxicated persons will not be admitted * No thongs or steel cap boots * The venue reserves the right to refuse admission to any person * Dangerous behaviour including Crowd Surfing, Stage Diving, Moshing and Violent Dancing is not allowed and will result in your immediate removal * Please contact the venue regarding accessibility requirements, some areas of the venue are not accessible *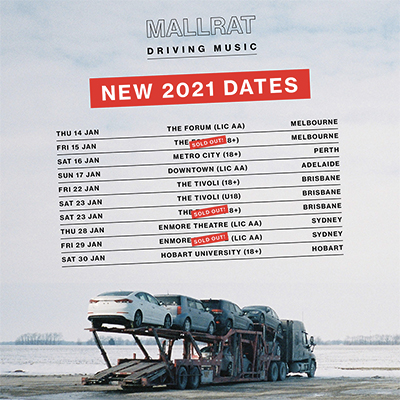 Venue Details
Metro City Concert Club
146 Roe St
Northbridge, WA, 6003