Mad Mike's Summer Bash Entrants
07:30am, Sat 2nd Dec 2023
This event has already taken place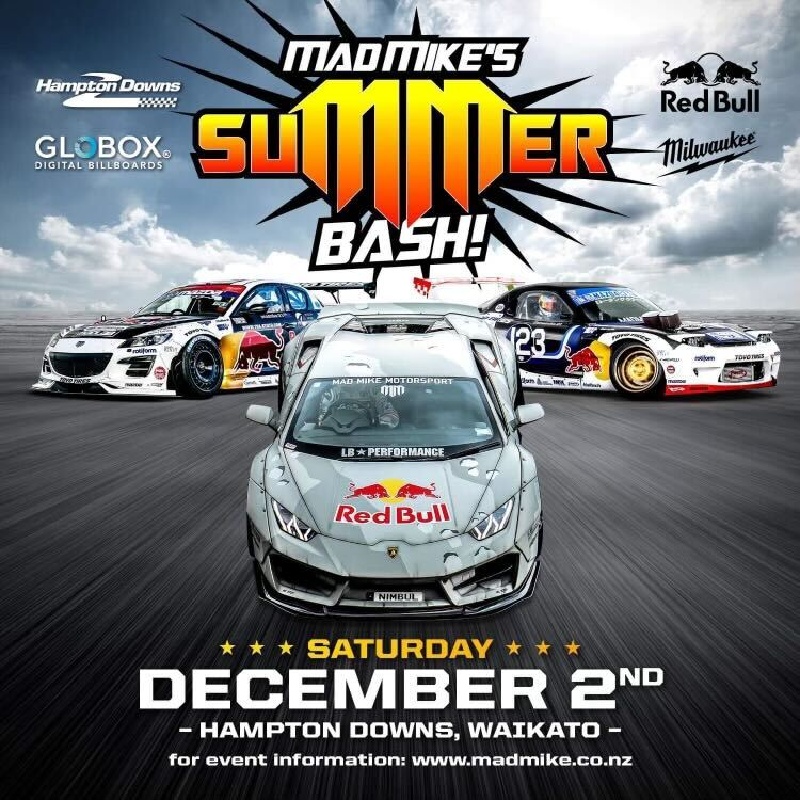 Venue Details
Hampton Downs Motorsport Park
20 Hampton Downs Road
Hampton Downs, Waikato, 3782
Mad Mike's Summer Bash Entrants
07:30am, Sat 2nd Dec 2023
ONLINE ENTRIES HAVE NOW CLOSED - YOU CAN ENTER AT THE TRACK ON THE DAY
BUY SPECTATOR TICKETS HERE


New Zealand Drift Superstar Mad Mike Whiddett brings you another instalment of the very best drift action New Zealand has to offer - it's Mad Mike's Summer Bash 6!
Highlights at this year's show: 
- Mad Mike's entire fleet drifting & cruising on track 
- Milwaukee Top 16 Drift Superclass 
- Toyo Tire Triple Threat Team Drift 
- Summer Bash Skid King 
- Open drifting 
- Hard Park Show 'N Shine 
- Kaspa Cruise  
- Gymkhana 
- RC Drifting
- DJ P Digsss live on Red Bull's 'BULRSH' DJ Truck
- Hert Eugene Jr - On track and sideways
- MC Jarod DeAnda - The Voice of Formula Drift- MC Jarod DeAnda - The Voice of Formula Drift
Come and witness live and direct!
NZ's best drifters will once again feature in the headline Summer Bash Superclass event where all comers will go up against Mad Mike. Not forgetting Whiddett will be rolling out the entire fleet to shred tyres on track.
There will be MASSIVE prizes and trophies up for grabs for all winners and runners up. In addition to this the International track cruise is open to the public. Off the track there will be the Hard Park Show 'N Shine, RC Drifting and Simulators in the pavilion. There will be the FREE Kids Zone and you can upgrade your experience to the Premium Trackside Lounge and grandstand option, trackside bar available.
Don't miss out - come and join us for the sixth instalment of Mad Mike's Summer Bash!
See the cars, see the stars.
HARDPARK + CRUISE - $99 + Booking Fees
- Access / Entry Driver + Car only (all other passengers must have valid ticket entry) 
- Hard Park Show N Shine - Prizes awarded 
- International Cruise Sessions - Cruise the Hampton Downs International circuit with your friends & family for 3 x cruise sessions 
- Optional Entry - Mad Mike Summer Bash Skid King - Back by popular demand, who will take the crown?!
GYMKHANA - $99 + Booking Fees
We are opening up the skid pan from 10am - 5pm for entrants to get on gymkhana course in your own vehicle. You can get on the pad as many times as you want during these open hours. 
- Access / Entry Driver + Car only (all other passengers must have valid ticket entry) 
- Hard Park Show N Shine - Prizes awarded 
- Optional Entry - Mad Mike Summer Bash Skid King - Back by popular demand, who will take the crown?! 
*Bring Your Own Car
HARDPARK + CRUISE + GYMKHANA COMBO - $179 + Booking Fees
Access / Entry Driver + Car only (all other passengers must have valid ticket entry)
Access to the wet skid pan / gymkhana course from 10am - 5pm in your own vehicle. You can get on the pad as many times as you want during these open hours. 
- Hard Park Show N Shine - Prizes awarded 
- International Cruise Sessions - Cruise the Hampton Downs International circuit with your friends & family for 3 x cruise sessions 
- Optional Entry - Mad Mike Summer Bash Skid King
DRIFT ENTRY - $395 + Booking Fees
Friday 
Testing and Qualifying for the Top 16 Drift Superclass
Saturday 
- Open drift session : Club & National Circuit simultaneous (1 hour) 
- Open drift session: International Circuit (1 hour) 
- 2 x International Cruise sessions (1 hour each) 
- 1 x Open drift session: Club Circuit (40 mins) 
- Top 16 Drift Superclass for those who qualify (2hours) 
- Triple Threat Team Drift (limited numbers, register your team now) (20m) 
- Summer Bash Skid King (1 hour) 
- Access to Gymkhana pad open 10am - 5pm 
- Book a Garage - these are strictly limited. 
**Note to qualify for Top 16 you must have a current Motorsport NZ licence & Log Book
DRIFT ENTRY (SATURDAY ONLY) - $300 + Booking Fees
Saturday ONLY
- Open drift session : Club & National Circuit simultaneous (1 hour) 
- Open drift session: International Circuit (1 hour) 
- 2 x International Cruise sessions (1 hour each) 
- 1 x Open drift session: Club Circuit (40 mins)  
- Triple Threat Team Drift (limited numbers, register your team now) (20m) 
- Summer Bash Skid King (1 hour) 
- Access to Gymkhana pad open 10am - 5pm 
- Book a Garage - these are strictly limited. 

Looking for General Admission tickets? Head here --> General Admission
For further event information see www.madmike.co.nz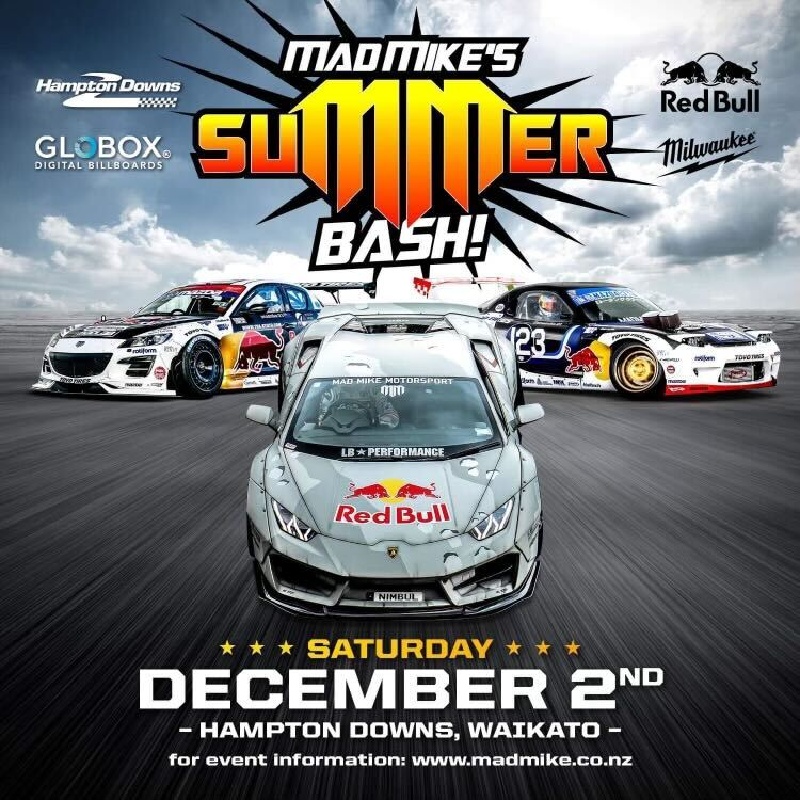 Venue Details
Hampton Downs Motorsport Park
20 Hampton Downs Road
Hampton Downs, Waikato, 3782