Kklub presents Kevin Kim (ZE:A) & Andy Trieu (SBS Pop Asia)
18+
09:30pm, Fri 17th Jan 2020
$17.03
$15.00 + $2.03 fee
First Release
Sales Closed
$22.09
$20.00 + $2.09 fee
Final Release
Sales Closed
$27.87
$25.00 + $2.87 fee
VIP Meet & Greet
Sales Closed
$43.62
$40.00 + $3.62 fee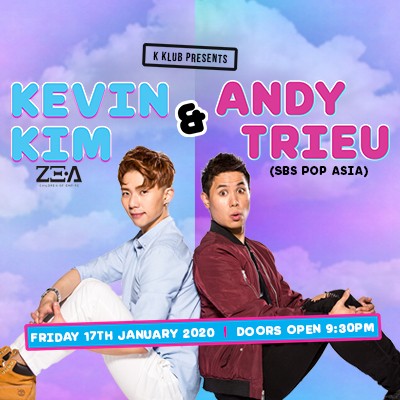 Venue Details
Air Nightclub
139 James St
Northbridge, WA, 6003
Kklub presents Kevin Kim (ZE:A) & Andy Trieu (SBS Pop Asia)
18+
09:30pm, Fri 17th Jan 2020
K Klub presents Kevin Kim (ZE:A) & Andy Trieu (SBS Pop Asia)
K Klub is back for 2020 with an amazing event to kick off the new year. We are so proud and excited to present two Australian stars of the K-Pop scene as our headliners;
Kevin Kim
Australian K-Pop artist, Kevin Kim, shot to fame as the lead singer with band ZE:A, touring all across the world. Kevin went on to produce, write, for many popular K-Pop groups and featured on several TV shows in Korea and Australia. He was also crowned as Cosmopolitan Bachelor of the year, the first Asian-Australian to do so.

Andy Trieu
Andy is a champion of the K-Pop genre in Australia. A renowned voice in the Asian pop entertainment industry in roles as lead interviewer, TV and radio host and as a K-Pop DJ. A Former three-time Australian Champion Martial Artist, Trieu went on to expand his repertoire from competing in tournaments to performing in roles across stage and screen - performing stunt work in movies such as Wolverine and Hacksaw Ridge. 
Together Kevin and Andy will perform a high energy hybrid live/DJ set that will blow your minds with support from our local DJ superstars Dokkaebi 도깨비 & DJ Core RD.
As usual our bar team will be serving the perennially popular Bubble Tea Cocktails and Soju mixers for your refreshment plus $8 drink specials all night. 

This is going to be the biggest K Klub event ever and what a great way to kick off 2020.

See you there!

Tickets on sale now:
Early Bird: SOLD OUT
First Release: SOLD OUT
Final Release: $25
VIP Meet & Greet: $40
Door sales: $30 from 9.30pm

Air Nightclub : 139 James Street, Northbridge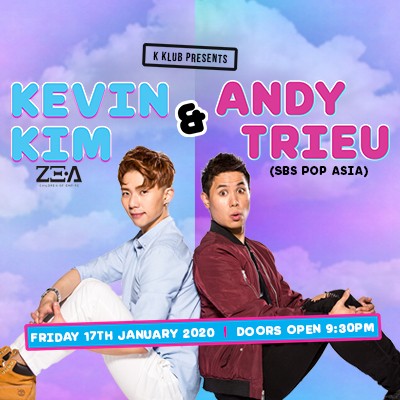 Venue Details
Air Nightclub
139 James St
Northbridge, WA, 6003