08:00pm, Wed 22nd Feb 2017
This event has already taken place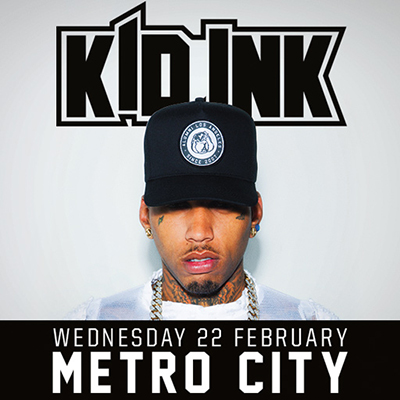 Venue Details
Metro City Concert Club
146 Roe St
Northbridge, WA, 6003
08:00pm, Wed 22nd Feb 2017
Los Angeles rapper and producer, KID INK, returns to Australia in February 2017 playing shows in Perth, Melbourne, Brisbane and Sydney.
There's absolutely nobody quite like the tattooed-from-head-to-toe impresario. Cruising past all boundaries, KID INK seamlessly slips from an irresistible hook into an impeccable verse, effortlessly bobbing and weaving between the club and the streets. His full-length debut, My Own Lane, invited audiences from various genres into his world.
Garnering a hugely positive reputation as a live performer and producer in the States - it's Australia's turn to get a dose of what this talented artist has to offer.
Guests at all shows are DONELL LEWIS and KENNYON BROWN.
Tickets go on sale at midday (local time) this Friday, November 11.
Telstra Thanks is bringing an exciting 48-hour pre-sale just for Telstra customers from 10am Wednesday, November 9 until 10am Friday, November 11. For more information on how to purchase, visit: telstra.com/music.        
KID INK officially started twisting the game up when he dropped his 2012 independent album, Up & Away, smashing iTunes records by debuting in the Top 5 of the Hip-Hop Albums chart prior to release. "Show Me" [featuring Chris Brown] introduced the world to the album. Fast forward a few years and KID INK has collaborated with Pusha T, Wale and French Montana, Usher and Tinashe to name a few.
Grinding as a producer since the age of 16, KID INK uncovered this creative highway by perfecting a personal style behind the board first. His production collaborations include everybody from Sean "Diddy" Combs, Sean Kingston, Nipsey Hu$$le and more. That experience in the studio set the stage for him to become the versatile and vibrant force he is today.
For complete tour and ticket information, visit: www.kidinkmusic.com & www.livenation.com.au
* Over 18's only unless advertised otherwise. * Photo ID is essential,­ acceptable ID is a current and valid Australian Photo Drivers Licence or Passport. Please check with the venue for any other acceptable forms of photo ID * All children under 18 not permitted, even if accompanied by an adult * No Passouts / Re-entry * Intoxicated persons will not be admitted * No thongs, slides or steel cap boots * The venue reserves the right to refuse entry, remove from a venue and/or issue a temporary suspension or ban to any person * Dangerous behaviour including Crowd Surfing, Stage Diving, Moshing and Violent Dancing is not allowed and will result in your immediate removal * Please contact the venue regarding accessibility requirements, some areas of the venue are not accessible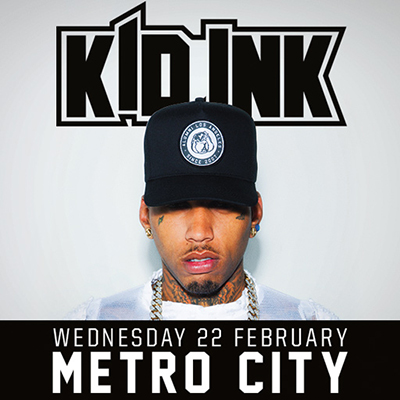 Venue Details
Metro City Concert Club
146 Roe St
Northbridge, WA, 6003