This event has already taken place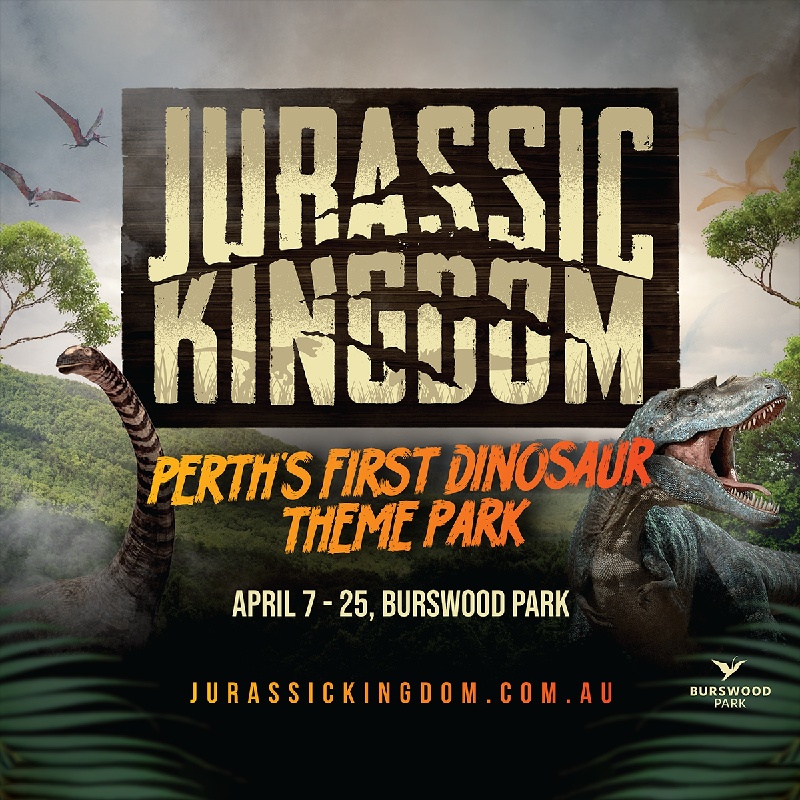 Venue Details
Burswood Park, Resort Drive
Resort Drive
Burswood, WA, 6100
JURASSIC KINGDOM IS PERTH'S FIRST DINOSAUR THEME PARK!
Explorers, get ready for the ULTIMATE Jurassic adventure! Step back in time as we bring the lost world of dinosaurs to life at Jurassic Kingdom. The excitement begins when 20+ Lifesize Dinosaurs stomp their way into Perth. 
Explore over two hectares of prehistoric parkland including:
🦖 20+ Lifesize Animatronic Dinosaurs
👨‍🎓 10 Interactive Exhibits 
🪨 Fossil Dig Sandpit
🧑🏻‍🎨 Dino Craft Station  
🐊 Dino Merchandise Shop
🎭 Roving Performers  
🎡 Carnival Rides 
🎲 Sideshow Games 
🥚 Jurassic Attractions 
🛍️ Showbags
🌋 Food Trucks & Chill Zones
Interact with these prehistoric creatures like never before and test your courage when you come face-to-face with these roaring, moving realistic dinosaurs hiding in the bushes, grazing in the tree tops and towering above your head.
Put your thinking cap on at the Prehistoric Education Zone and learn about the time when the mighty T-Rex and Triceratops roamed the Earth, with 10 thrilling interactive exhibits that will test your strength and problem-solving skills.
Jurassic Kingdom offers a truly unique family day out with roving performers, dinosaur nests, giant fossilised footprints and more. Get creative at the Dino Craft Station and uncover mysteries of the past at the Giant Fossil Dig Pit. 
There's something for everyone including the Jurassic Carnival with eight heart-pounding rides and fan-favourite Sideshow Games. Face your fears on the Jurassic Temple, drift on the Dodgem Drift 2, spin on the Storm or soar like a Pterodactyl on the Dream Swinger.
Relax and refuel with Food Trucks and Chill Zones and be sure to visit the Dino Shop and Showbags emporium and continue your adventure at home. 
Entrance to the park starts from just $39+bf online for children (or $55 on the day) and $15+bf online for adults (or $20 on the day). Each child ticket includes: 
Jurassic Kingdom Adventure Map
20+ Animatronic/Static Dinosaur Exhibits
Dino Craft Station
Prehistoric Education Zone
Giant Fossil Dig
8 x Free Carnival Rides
Jurassic Kingdom is open daily, from Good Friday 7 April - ANZAC Day Tuesday 25 April, with staggered entry times:
9:00am
10:00am
11:00am
12:00pm 
1:00pm
2:00pm
Park closes at 4:00pm each day. 
Jurassic Kingdom is a MUST-VISIT experience for all budding paleontologists and dinosaur lovers. Don't miss out on this once-in-a-lifetime adventure. Book your tickets now and get ready to roar with the dinosaurs at Jurassic Kingdom.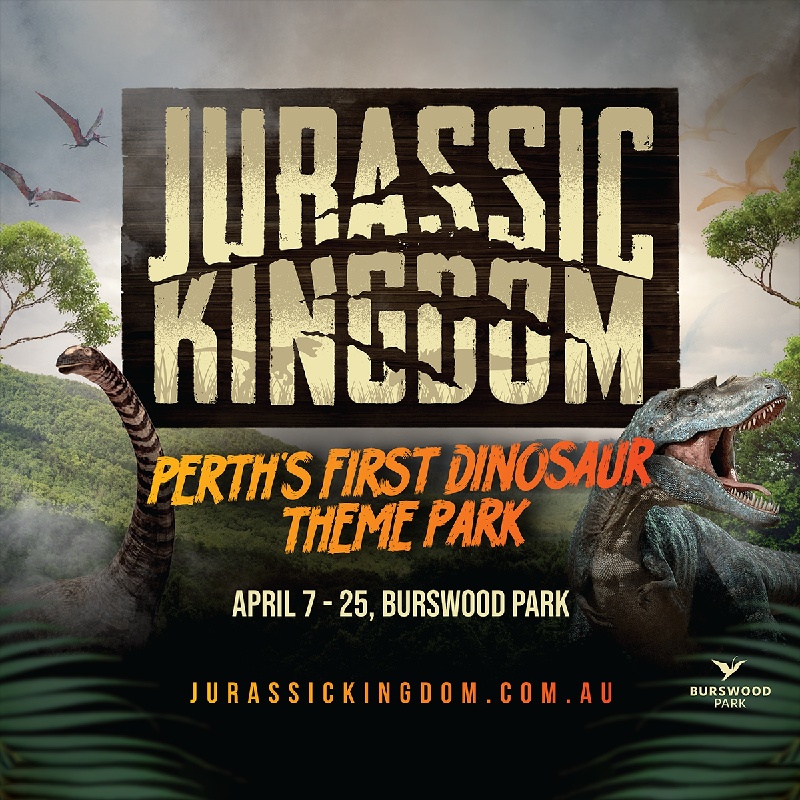 Venue Details
Burswood Park, Resort Drive
Resort Drive
Burswood, WA, 6100