02:00pm, Sun 4th Jul 2021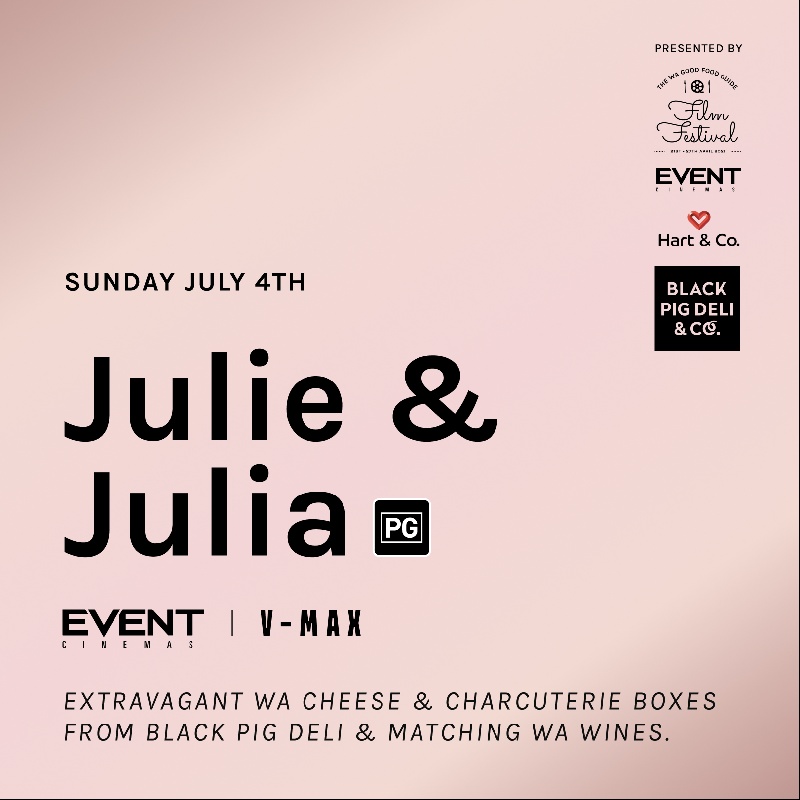 Venue Details
Event Cinemas Innaloo
57 Liege Street
Innaloo, WA, 6019
02:00pm, Sun 4th Jul 2021
An all-time culinary classic in VMAX! Enjoy this stunning food adventure on screen. Meryl Streep and Amy Adams star in this tale of two women, decades apart.
Profits from the first 100 tickets sold for this session will go towards our charity partner - 5000 Meals. 
The rise to prominence of American culinary legend Julia Child, and blogger Julie Powell whose 2002 challenge to cook each recipe in Child's first book is the inspiration for this Nora Ephron classic.
The WA Good Food Guide Film Festival showcases the talents of West Australian chefs and producers. Each screening has a thoughtfully curated food and beverage experience at its heart.
For our presentation of Julie and Julia, start the session with some fresh La Delizia Latticini ricotta on fresh bread with honey and almonds and a glass of wine before heading into the VMAX cinema.
Then enjoy your box which includes cheese from the likes of Halls Family Dairy, Dellendale, Harvey cheese and Cambray cheese, Nordic crackers and toasts, seasonal fruits and Black Pig Deli charcuterie. Dessert is from WA institution, the Honeycake (total offering valued at $70 pp).
An exceptional selection of West Australian wines and innovative non-alcoholic options have been curated by acclaimed drinks guru Mike Bennie, our Director of Drinks for this event.
A box of amazing take-home products curated by WAGFG and the Black Pig Deli team can be ordered on top of the ticket price by emailing hello@wagoodfoodguide.com with your booking reference. 
Special Notes
This is an 18+ event as each ticket includes two glasses of wine. One glass will be served on arrival, with the other can be taken into the session. Additional glasses can be purchase during the film if desired
Non-alcoholic drink options are available including non-alcoholic wine. These do not reduce the cost of the ticket price
Wine can be substituted for beer, if of preference
Food will be served approximately 20-35 minutes into the film, in the form of boxes
Box items are set, and unfortunately, we cannot make variations to the food offering
Dessert is included
Tickets are non-refundable, however can be transferred. In the event of a CV-19 stay at home order, tickets will be refunded
Questions about the screening can be directed to hello@wagoodfoodguide.com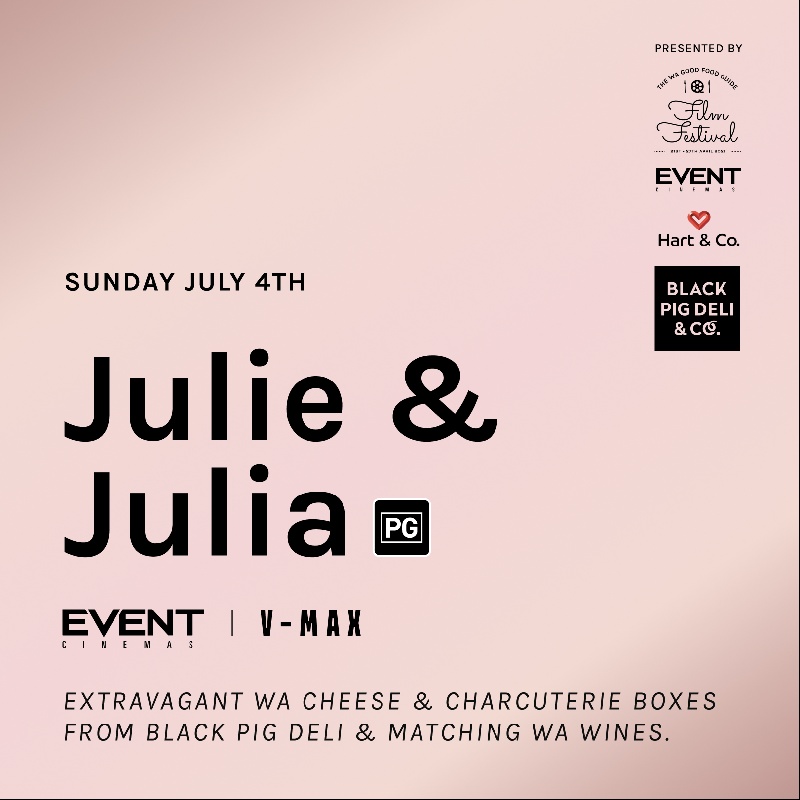 Venue Details
Event Cinemas Innaloo
57 Liege Street
Innaloo, WA, 6019