Ice Cream Factory || YOUNG FRANCO NYE
18+
05:00pm, Sun 31st Dec 2023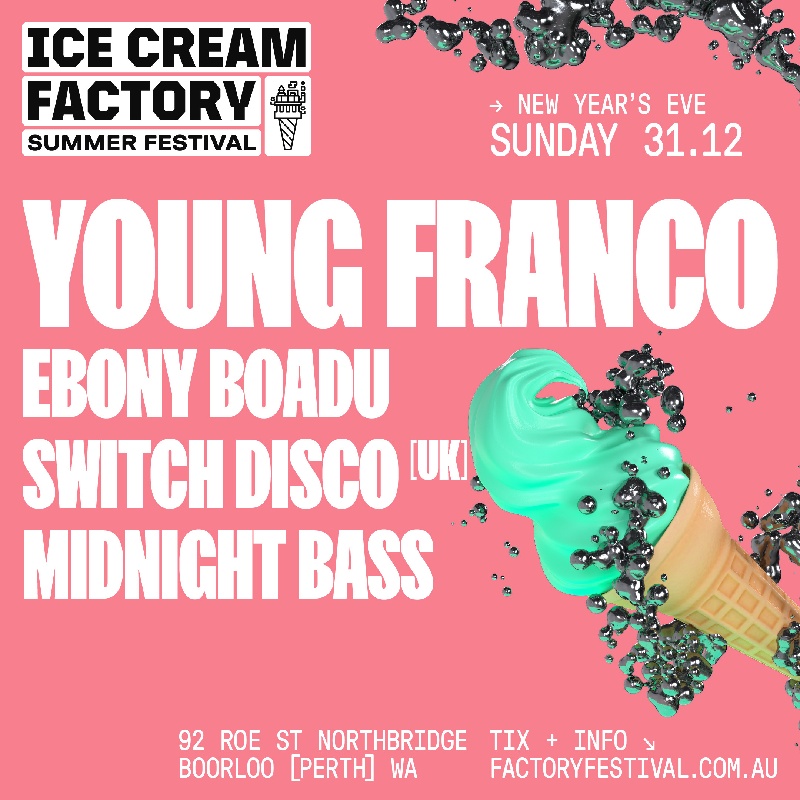 Venue Details
The Ice Cream Factory
92 Roe Street
Northbridge, WA, 6003
Ice Cream Factory || YOUNG FRANCO NYE
18+
05:00pm, Sun 31st Dec 2023
🌟 New Year's Extravaganza at The Ice Cream Factory - Sunday 31st December 2023 🌟
Ring in 2024 with a bang! The Ice Cream Factory proudly presents the most sensational New Year's bash Perth has ever witnessed. As the calendar flips to a new year, we're rolling out a night bursting with electrifying music, mesmerizing fireworks, and unparalleled festival vibes.
💥 Fireworks Spectacular: As midnight approaches, brace yourself for a dazzling display of fireworks that will light up the Perth sky, symbolizing hope, dreams, and a fresh start.
🎧 Star-studded Line-up:
Groove into the New Year with the funky beats of Young Franco.
Lose yourself in the captivating rhythms spun by the incredible Ebony Boadu.
Experience the genre-blending magic of Switch Disco.
And fuel your party spirit with the bass-driven beats of Perth's very own, Midnight Bass.
Held at the iconic Ice Cream Factory venue, every corner you turn promises a new surprise:
🍹 Quench your New Year's thirst at our 12 themed bars and the all-new frosty Slushy Bar.
🎶 Bop your head and move your feet at the expanded Red Bull Silent Disco and immerse yourself in the 360 Degree Boiler Room experience.
🍔 When hunger strikes at midnight (or anytime!), dive into delights from Milky Lane Burgers.
As the final hours of 2023 wind down, there's truly no better place to be than surrounded by friends, music, and the promise of a fresh start at The Ice Cream Factory.
🎟️ Tickets & Details: Spaces are limited, and with a lineup this hot, they're bound to vanish in a flash! Ensure you're part of the magic by securing your spot now.
Perth, let's bid farewell to 2023 and welcome 2024 with open arms, dancing shoes, and memories to last a lifetime! 🎉🍾🍦🎶🎆
---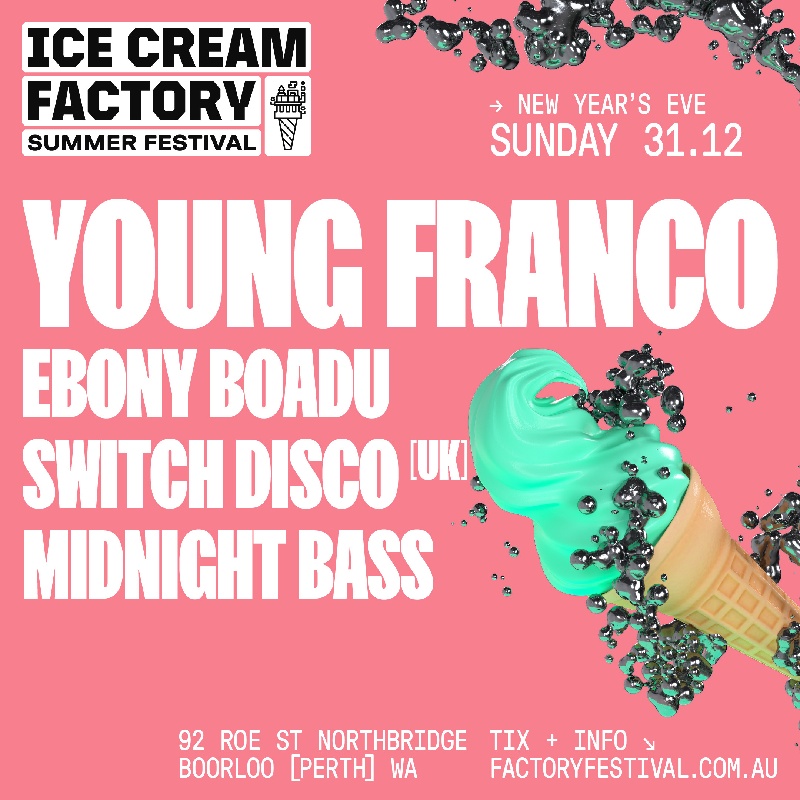 Venue Details
The Ice Cream Factory
92 Roe Street
Northbridge, WA, 6003