Ice Cream Factory || SUPER SATURDAY
18+
05:00pm, Sat 16th Dec 2023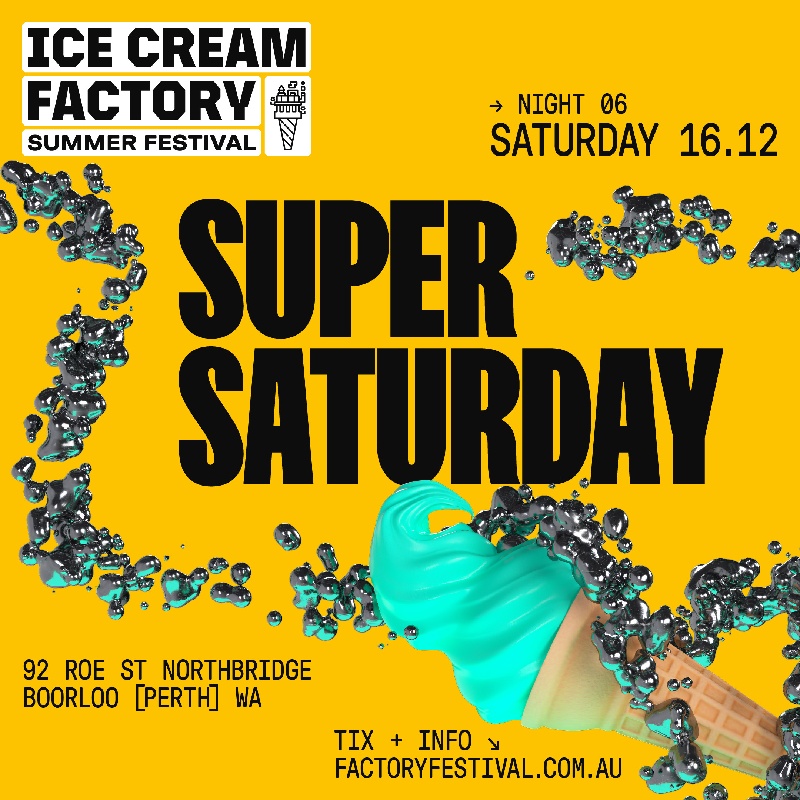 Venue Details
The Ice Cream Factory
92 Roe Street
Northbridge, WA, 6003
Ice Cream Factory || SUPER SATURDAY
18+
05:00pm, Sat 16th Dec 2023
🍦 SUPER SATURDAY at The Ice Cream Factory - Saturday 16th December 2023 🍦
The hottest day of Perth's iconic festival, The Ice Cream Factory, is about to get even hotter! SUPER SATURDAY is on the horizon, and with it, a day that promises the apex of music, magic, and memories.
Strut into the festival grounds and let the summer vibes sweep you off your feet. As the beats from our newly outdoor Main Ice Cream Stage, boasting its largest triple-decker setup yet, reach your ears, you'll know you're in for a treat!
🎧 Find your groove at the bigger and better Red Bull Silent Disco inside the FACTORY.
🎶 If an all-round musical escape is what you crave, our 360 Degree Boiler Room will surround you with the sounds of summer.
Thirsty from all that dancing? 🍹 Choose from 12 unique Themed Bars or get icy with a concoction from our brand-new Slushy Bar.
Looking to wind down? 💆‍♂️ The Drug Aware Chill Out Oasis awaits you, offering a serene space amidst the revelry.
And if your taste buds are tingling, 🍔 let them feast on the delectable Milky Lane Burgers.
🔥 SUPER SATURDAY is more than just a day - it's an Ice Cream Factory phenomenon, a collision of music, immersive experiences, and unforgettable moments. Whether you're a regular or it's your first dip into this summer spectacle, this is the Saturday you won't want to miss.
🎟️ Spots for SUPER SATURDAY are limited! Secure yours now at Megatix and find full festival details at Factory Festival.
Remember: The Ice Cream Factory Festival is a strictly 18+ event. Ensure you bring a valid ID, and let's make this a safe and memorable experience for all!
Mark your calendars and gear up for SUPER SATURDAY - it's where memories will be made, and legends will be born. 🎉🍦🌞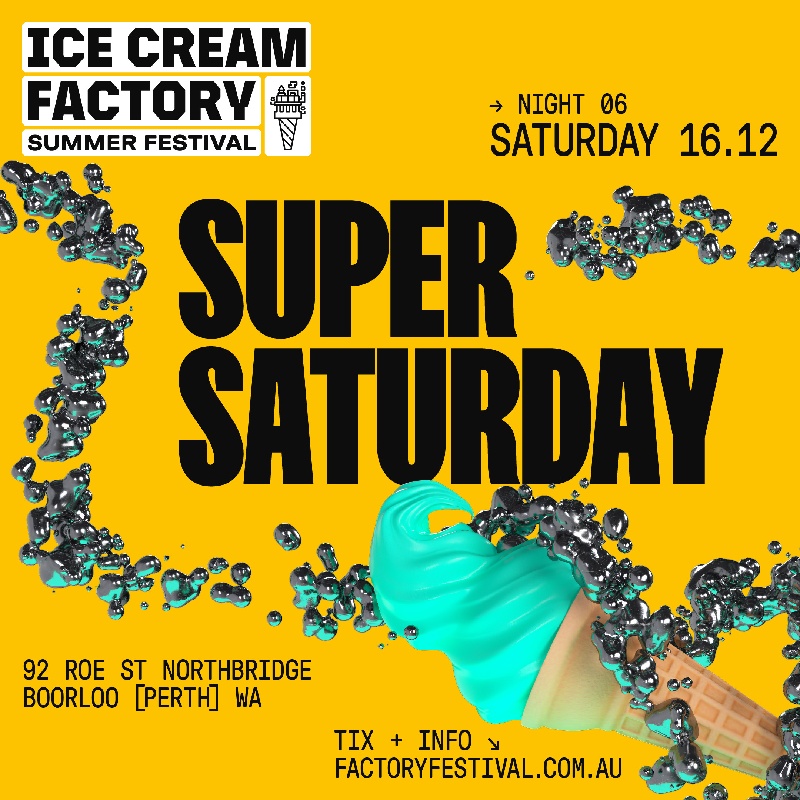 Venue Details
The Ice Cream Factory
92 Roe Street
Northbridge, WA, 6003