03:00pm, Sat 1st Jun 2019
Flash Tickets
includes 1 free drink
Sales Closed
General Admission
Includes 1 free drink
Sales Closed
Havana Table Package
Includes 1 premium bottle, a cocktail table and free entry for 5 people
Sales Closed
VIP Table Package
Includes 1 bottle grey Goose 1.75 l, a VIP table and free entry for 6 people
Sales Closed
VVIP Table Package
Includes 1 bottle grey Goose 4.5 l, a VIP table and free entry for 10 people
Sales Closed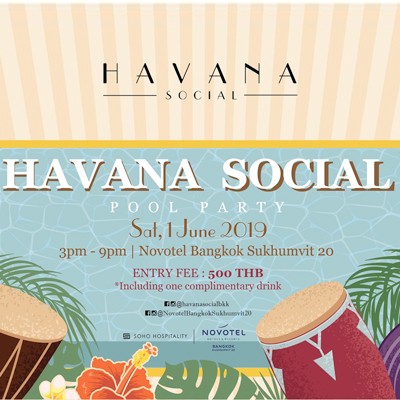 Venue Details
Novotel Bangkok Sukhumvit 20
Novotel Bangkok Sukhumvit 20
Klongtoey, Bangkok, 10110
03:00pm, Sat 1st Jun 2019
As the temperature rises, it's time to bring Havana Social's notorious Cuban party vibes to the poolside! 😎🌴🍸

We're partnering up with Novotel Bangkok Sukhumvit 20 to throw our very first POOL PARTY at their spacious pool venue.

Get ready for an afternoon of fresh mojitos, bikinis, sexy afro-latin tunes, and cool splashes in the pool 😉🌊

Be ENTERTAINED by:
🎧 DJ Pepe & DJ Yvan
💃🏽 Latin Dancers
🌟 Drag Queens

Date: Saturday, 1 June 2019
Time: 3pm to 9pm
Venue: Novotel Bangkok Sukhumvit 20 (Pool)

----------

Ticket: THB 500
*Including one complimentary drink.

🔥 Book a table! 🔥
Havana Social Table Package:  THB 5,000  
1 Bottle of choice of Belvedere 0.70L, Tanqueray Gin 0.75L or Johnny Walker Black Label 0.70L including 5 Mixers
Free Entrance 5 persons including 1 standing cocktail table.  
VIP Table Package: THB 10,000
Includes 1 Bottles of Grey Goose 1.75L or 1 Bottle of Premium Spirits and 1 Bottle of Prosecco
Free Entrance for 6 persons including 1 VIP Table
VVIP Table Package: THB 30,000
Includes 1 Bottle of Grey Goose 4.5L 
Free Entrance for 10 persons including 1 VIP Table
Strictly Limited Tables - BOOK NOW

--------

See you all there! 🎉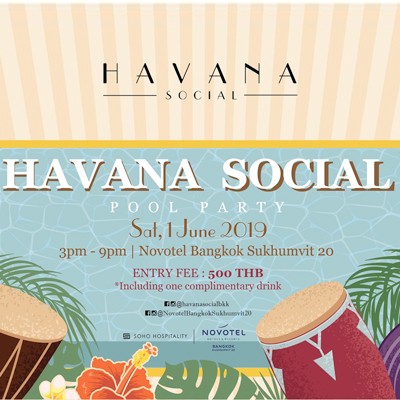 Venue Details
Novotel Bangkok Sukhumvit 20
Novotel Bangkok Sukhumvit 20
Klongtoey, Bangkok, 10110