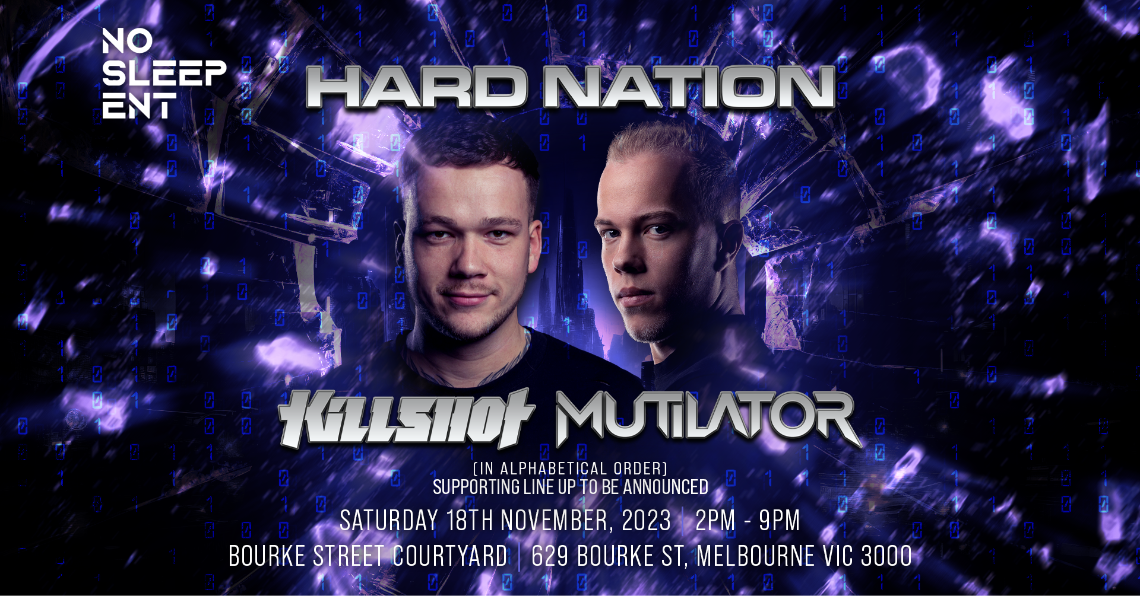 NO SLEEP ENT presents the return of HARD NATION ft Killshot and Mutilator
18+
02:00pm, Sat 18th Nov 2023 - 09:00pm, Sat 18th Nov
This event has already taken place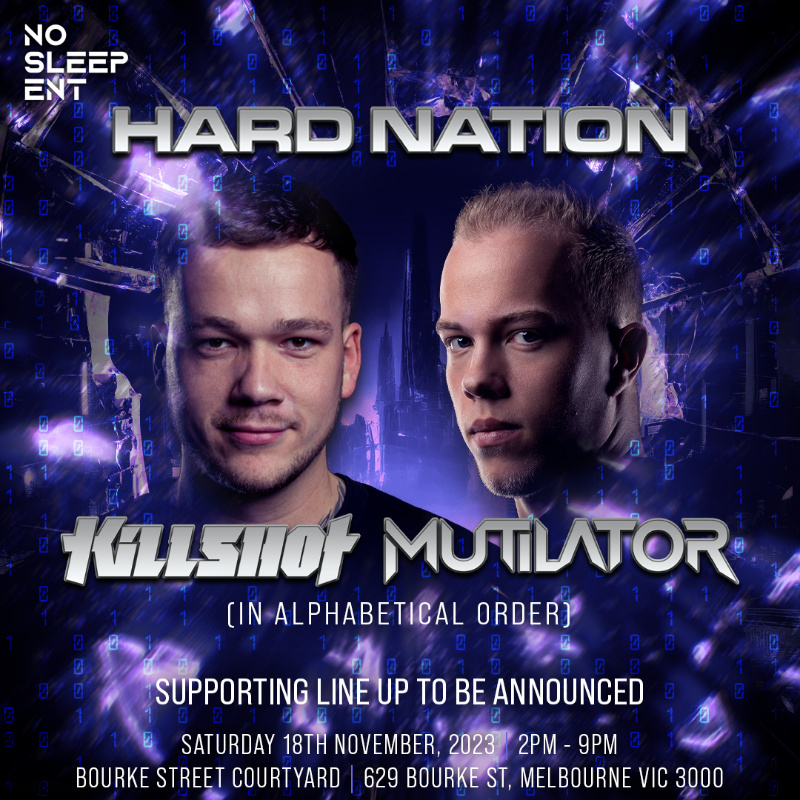 Venue Details
Bourke Street Courtyard
629 Bourke Street
Melbourne, VIC, 3000
NO SLEEP ENT presents the return of HARD NATION ft Killshot and Mutilator
18+
02:00pm, Sat 18th Nov 2023 - 09:00pm, Sat 18th Nov 2023
Melbourne, are you ready to get a fat beat? 🔊
No Sleep Entertainment presents Netherlands DJs Killshot and Mutilator for an unforgettable day party on NOVEMBER 18th. Be prepared for your senses to be ignited!
This is your chance to become a part of the hardstyle and hard techno movement that refuses to sleep.
SUPPORTING LINE UP:
DEAN DEE: https://soundcloud.com/deandeeofficial | HARDIK: https://soundcloud.com/hardikhardtok | LANCE: https://soundcloud.com/djlance_mm | MJU: https://soundcloud.com/mjuofficial | NUGGET (SYD): https://open.spotify.com/artist/5i20gyD81PU5HvEkDKz3zf?si=adv2_lHeToGYL0mRUZQIog | PAPAS JNR: https://soundcloud.com/jaipapas | SYMMETRY: https://soundcloud.com/symmetry_hardstyle
----
Don't miss out on future events and presale releases! Keep in the loop by subscribing to our mailing list: https://www.nosleepent.com.au/subscribe-nse.
Follow us on social media for updates and exclusive content:
----
KILLSHOT (NETHERLANDS): https://open.spotify.com/artist/2m5uCiZcpQ50tXsJrThFoM
Hardstyle revelation Killshot has been invigorating the hardstyle scene with refined productions, mind-blowing performances and a refreshing, unique persona. Since the conception of his career, Stan van Geffen, aka Killshot, has brought his listeners along into the depths of his colourful mind with vibrant and boundary-breaking tunes that are loaded with boundless energy.
His vivacity and quirkiness can be felt and heard in his discography of well-received hits such as 'Beastmode', 'Fat Beat', 'LOCA', 'Ghetto Bass', 'We Savage', 'Inside Of Us', 'Day For Night' and of course, his newly-released album 'Lock And Load'.
MUTILATOR (NETHERLANDS): https://open.spotify.com/artist/3AkGIMk9xwDj4A5ttNBPiN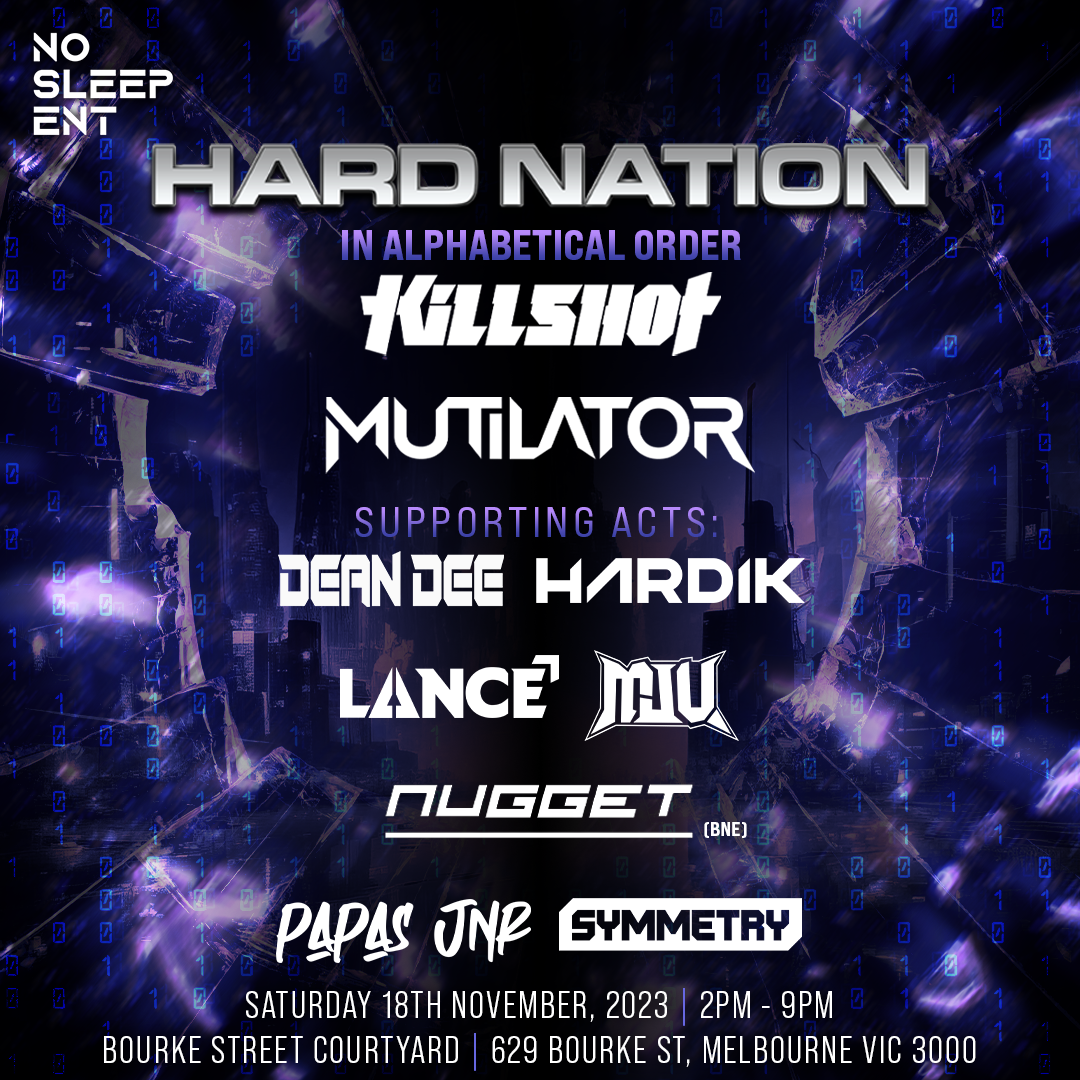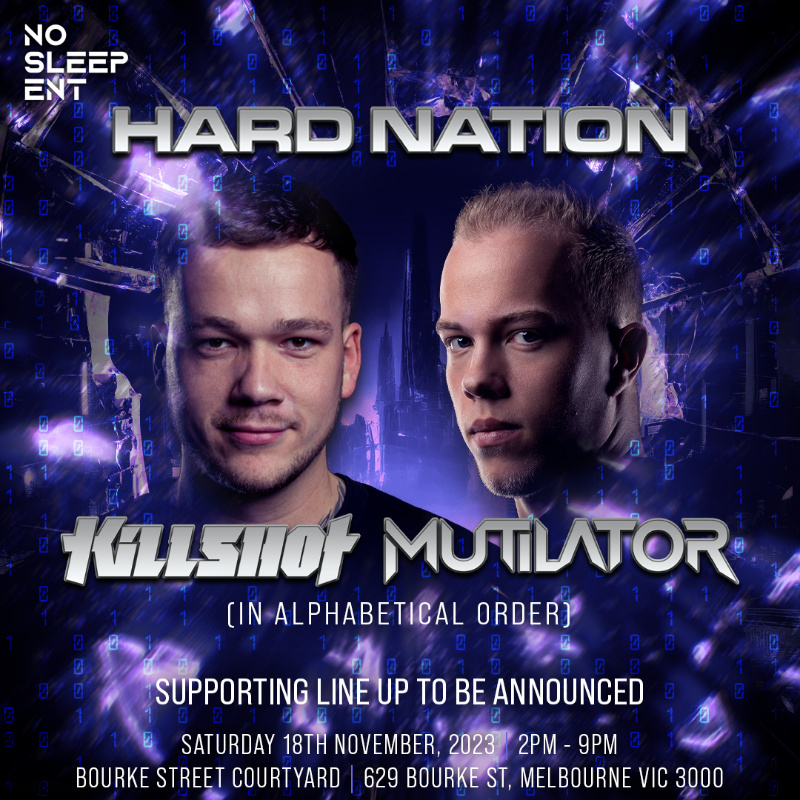 Venue Details
Bourke Street Courtyard
629 Bourke Street
Melbourne, VIC, 3000