Habitat Garden Party - Torren Foot + Benson + Choomba
18+
09:00pm, Mon 25th Jan 2021
SPECIAL Student/Unemployed Ticket
Must show Student ID or Concession Card with ticket at door. (Centrelink Health Care Card is ok)
Sales Closed
$32.93
$30.00 + $2.93 fee
First Release Ticket
Sales Closed
$48.69
$45.00 + $3.69 fee
Second Release Ticket
Sales Closed
$58.82
$55.00 + $3.82 fee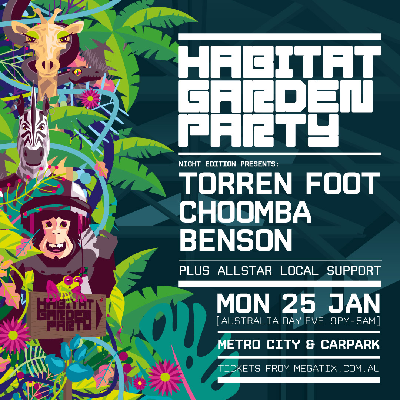 Venue Details
Metro City Concert Club
146 Roe St
Northbridge, WA, 6003
Habitat Garden Party - Torren Foot + Benson + Choomba
18+
09:00pm, Mon 25th Jan 2021
Hey everyone,
It is with great sadness that we have to announce the cancellation of this event 😭😢😭 We have been holding off waiting to see what the new border restrictions with Melbourne would be, but unfortunately the 14 day quarantine announced is not an option for our artists. The scramble for possible replacement artists has been going on for the last few days, but with border restrictions still on most states we don't feel we can put together a suitable lineup of the caliber expected.
With the ever evolving guidelines and restrictions in the current climate, we have decided not to reschedule the event and risk yet another possible delay 😔
So we are proposing two options for ticket holders...
OPTION 1 - we are offering you the option to swap your ticket for 2 tickets to our Habitat Garden Party // Market Grounds Edition featuring Mind Electric this Sunday 24 January. This offer is valid until 6pm on Thu 21 Jan. If you wish to take up this offer, please click the link and fill in the details. Your new tickets will be emailed out to you. Click here https://mtix.me/hgp-swap
OPTION 2 - all ticket holders that do not take up the above offer by 6pm Thursday will be refunded automatically by Megatix after this date.
Thanks for patience and understanding during these crazy times.
TOGETHER WE DANCE 😎
* Over 18's only unless advertised otherwise. * Photo ID is essential,­ acceptable ID is a current and valid Australian Photo Drivers Licence or Passport. Please check with the venue for any other acceptable forms of photo ID * All children under 18 not permitted, even if accompanied by an adult * Intoxicated persons will not be admitted * No thongs or steel cap boots * The venue reserves the right to refuse admission to any person * Dangerous behaviour including Crowd Surfing, Stage Diving, Moshing and Violent Dancing is not allowed and will result in your immediate removal * Please contact the venue regarding accessibility requirements, some areas of the venue are not accessible *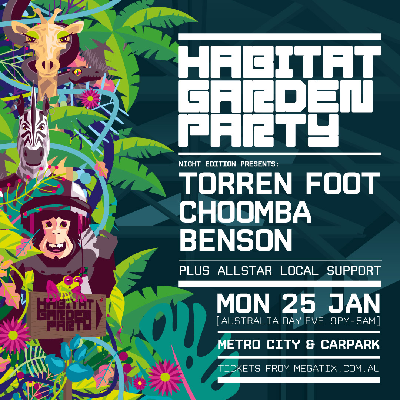 Venue Details
Metro City Concert Club
146 Roe St
Northbridge, WA, 6003