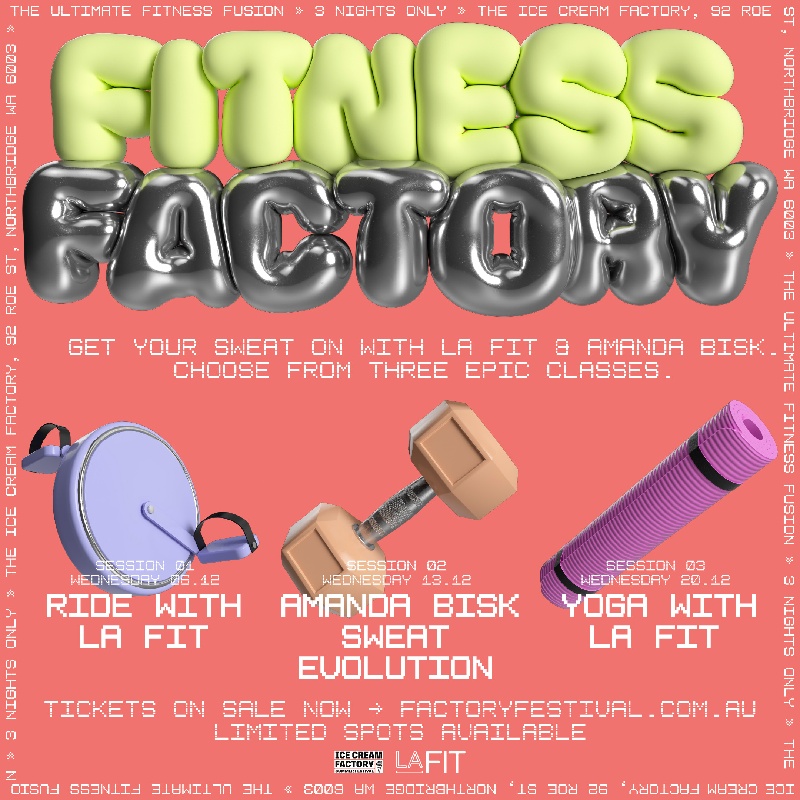 Venue Details
The Ice Cream Factory
92 Roe Street
Northbridge, WA, 6003
🏋️‍♀️ Fitness Factory Takeover at The Ice Cream Factory: 3 Wednesdays of Wellness 🧘‍♂️
Prepare to swap your scoops for sweat this December as The Ice Cream Factory transforms into your ultimate workout wonderland! For three consecutive Wednesdays, we're bringing you the most exhilarating fitness sessions, ensuring that both your mind and body stay energized this festive season.
🚴‍♀️ Wednesday, 6th December: RIDE WITH LA FIT
Time: 5.15pm (Shane Collard), 6.15pm (Jacinta Hanrahan), 7.15pm (Kristy Wakefield)
Duration: 45 minutes
About: Dive into Perth's premier rhythm ride indoor cycling class! This isn't your typical spin class – it's a dance party on wheels. Let go as the beats guide you, with high-intensity intervals, moving meditation, and light weight toning making this a holistic cardio fiesta!
🤸‍♀️ Wednesday, 13th December: AMANDA BISK SWEAT EVOLUTION
Time: 6.30pm
Duration: 60 minutes
About: Dive into a transformative fitness experience with Amanda Bisk's SWEAT EVOLUTION! As the iconic Australian Pole Vaulter and mastermind behind the freshbodyfitmind app, Amanda promises a session packed with vitality and vigor. Prepare to challenge your limits and evolve your fitness game during this dynamic, energy-infused session at the Factory. Get ready to evolve, sweat, and shine!
🧘‍♂️ Wednesday, 20th December: YOGA WITH LA FIT
Time: 6pm
Duration: 60 minutes
About: Wind down with a serene Vinyasa session led by LA Fit's stellar yoga instructors. This class emphasizes strength, flexibility, and mental clarity. Amidst the December rush, find your center, breathe deep, and restore your balance.
At the Fitness Factory Takeover, it's all about celebrating movement, energy, and well-being. Whether you're cycling to the rhythm, sweating it out with HIIT, or finding zen with yoga, there's a place for everyone to feel the burn and the bliss.
Are you ready to take your fitness to a flavorful new dimension? Join us for these unmissable sessions at the iconic Ice Cream Factory venue. 🎉🍦🏋️‍♀️
Get fit, have fun, and relish every moment!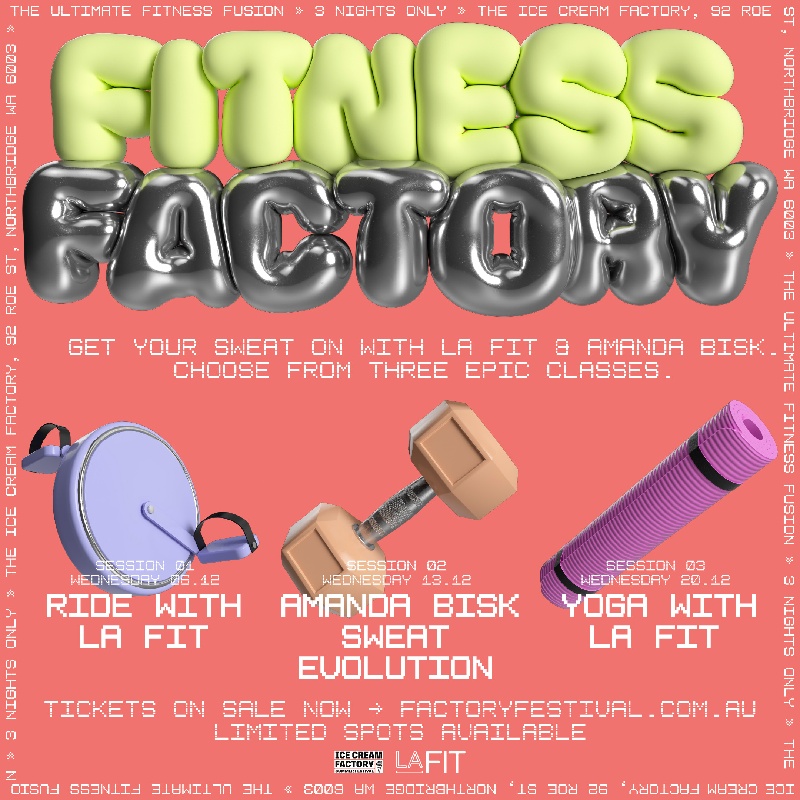 Venue Details
The Ice Cream Factory
92 Roe Street
Northbridge, WA, 6003