Family Rave Day - Halloween! (2nd Show)
12:00pm, Sun 31st Oct 2021
This event has already taken place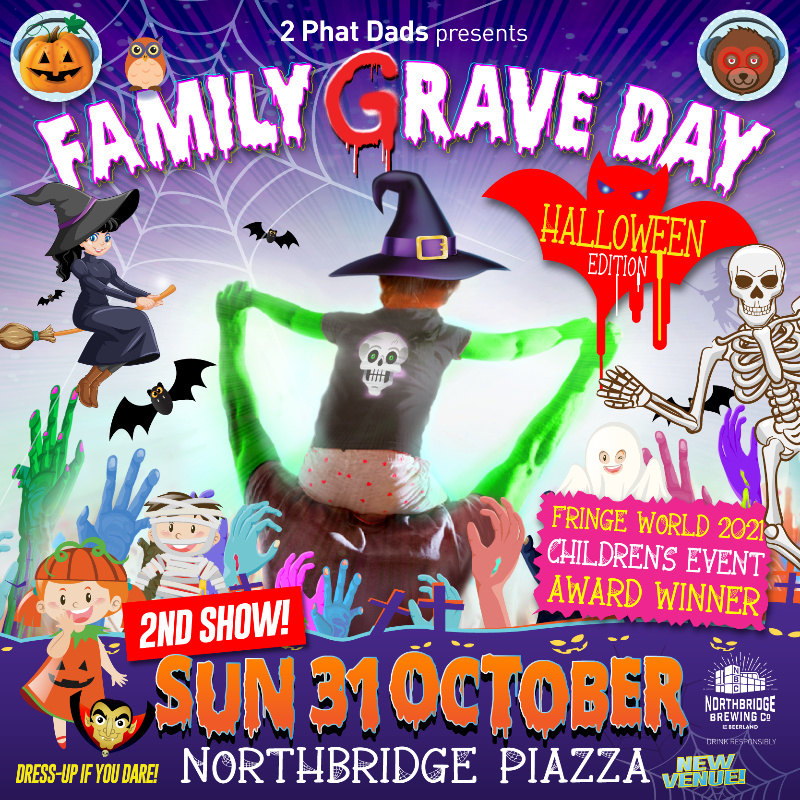 Venue Details
Northbridge Piazza
Corner Lake & James St
Northbridge, WA, 6003
Family Rave Day - Halloween! (2nd Show)
12:00pm, Sun 31st Oct 2021
ONSALE 7PM MONDAY 6TH SEPTEMBER
SECOND SHOW ANNOUNCED !! FIRST SHOW SOLD OUT IN 2 WEEKS
Event Run Time:  12pm to 3pm
ZIP PAY Available
Attention Boys, Ghouls, Unearthly Parent Witches & Werewolfs! 
Fly Over on a Broom or Float like a Ghost, Just don't miss out on Our Family Halloween Rave! Dress up encouraged !
Proudly brought to you by 2 Phat Dads.... 
This All Ages Family Festival will sell out and tickets are extremely limited, don't miss out ! 
Join us at Perth's BIGGEST Family Halloween Dance Party and yes we are bringing the Spook! Its Halloween mwahahaha! 
Following our Fringe World 2021 Children's award, Sold Out Fringe World 2021 series and large scale Festival shows, we are proud to announce our next Family Rave! 
Tickets on-sale Monday the 6th September at 7pm. Pre-registration is open NOW in the ticket link now so you dont miss out ! 
More surprises to come, but a taste of the awesomeness on the day:
- Halloween Dress Up Encouraged
- Top talent Club DJs
- Spooky Entertainers
- Inflatables
- Fairy Floss
- Popcorn
- Plenty of lunch options (Menu to come soon)
- Rave kits for kids
- Balloons
- Endless Bubbles
- Halloween lighting & visual show
- Halloween games
- Adult drinks (Parents please drink responsibly)
- Much much more fun stuff to be announced soon !
- Easy public transport and parking 
Note: Food, drink and merchandise are separate to ticket price
Right in the heart of Perth at our NEW fabulous festival venue Northbridge Piazza, dress up in your most spookiest Halloween outfit and dance the day away with your Zombie Fam Bam ! 
Our top talent Club DJs showcase world class electronic music along with an endless lineup of entertainment. We have gone a bit mad this party and completely Halloween themed the venue ! 
We have the entire Northbridge Piazza to ourselves which is secured and dedicated to our festival with full security and amenities.
Dont eat before you come as we have LOADS of squeamish food options on the day and recently boosted our concessions offering meaning you'll be fed and sugarized is no time ! 
DRESS UP in your most fab Halloween outfit ! There will be plenty of door prizes on the day and plenty of fearful surprises !
Family community experience driving senses into constant overdrive.  
FAMILY EVENT, ADULTS MUST BE ACCOMPANIED BY A CHILD UNDER 18 YEARS OLD. 
UNDER 18 YEAR OLDS MUST BE ACCOMPANIED BY AN ADULT. 
Our customers safety is absolute priority where Covid19 safety is strictly place. 
Frequently asked questions about tickets: 
1) Tickets are advance only and MAY not be available on the door 
2) Adults and children BOTH require a valid ticket 
3) Ticket TIER pricing means the earlier you book, the cheaper the ticket 
4) Babies are free of charge if carried in a sling 
5) Tickets are non refundable and can not be sold to other people 
6) If you have lost your ticket please email law@lawcorden.com 
7) All kids under 14 require child tickets, children over 14 require adult tickets 
8) All children must be accompanied by an adult/parent 
9) This is a dance party and we play electronic music including but not limited to, house, techno, drum and bass, bass, trance, break beats & MORE 
10) Noise levels kept to a minimum as we have a young audience & ears. But if you are concerned please bring headphones for your little one (werewolf / witch) 
11) All adults must be accompanied by a child under 18 years old (Sounds funny but hey its a family event, not Tomorrowloand) 
12) This is an all ages event, kids & adults love the show equally, its a RIOT ! We have anywhere from 6 month olds to 100 year olds, legit 
13) Fake tickets will not be allowed entry, only buy from Megatix, watch for scalpers and fake tickets, they will not be allowed entry
14) Good vibes only, these parties are so much fun so bring your dancing shoes and be ready for the party of the year !
15) Companion cards are accepted, and do not require a ticket. Companions must accompany a valid ticketholder.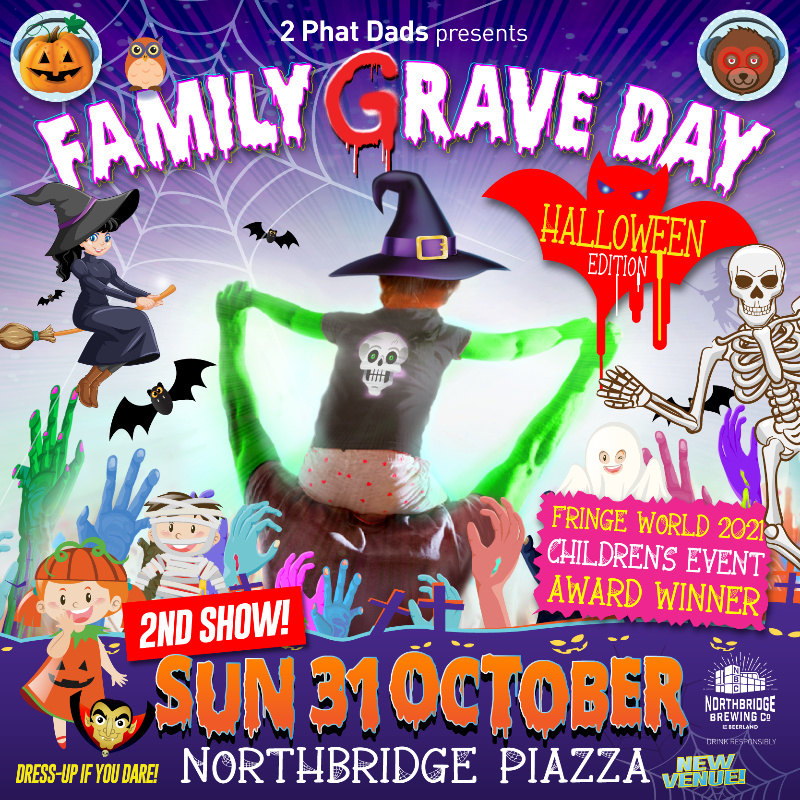 Venue Details
Northbridge Piazza
Corner Lake & James St
Northbridge, WA, 6003