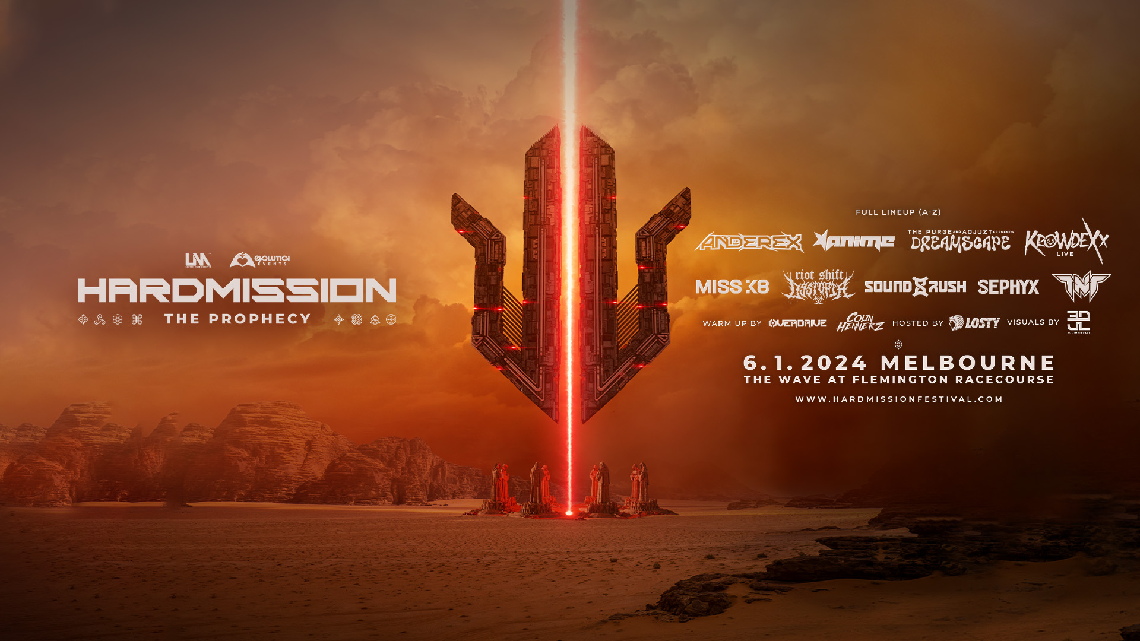 Evolution Events and United Music present Hardmission Festival Australia 2024
18+
03:00pm, Sat 6th Jan 2024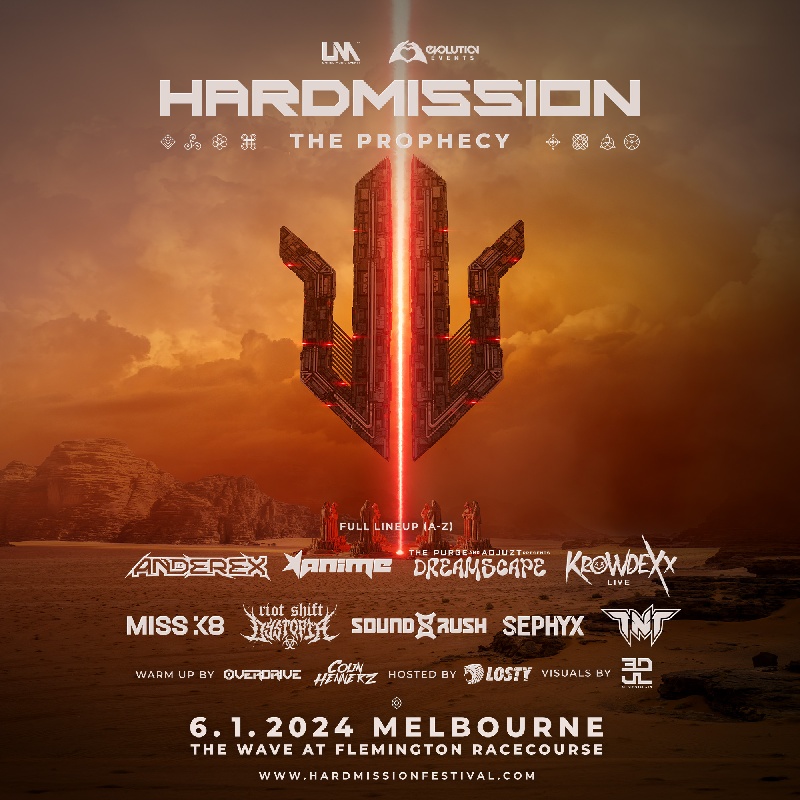 Venue Details
The Wave - Flemington Racecourse
448 Epsom Rd
Flemington, VIC, 3031
Evolution Events and United Music present Hardmission Festival Australia 2024
18+
03:00pm, Sat 6th Jan 2024
Mark your calendars for an unforgettable experience on Saturday, January 6th, 2024, as United Music & Evolution Events proudly present a groundbreaking event: Australia's highly anticipated debut of "Hardmission: The Prophecy." Embark on a remarkable journey into the realm of harder styles, where the unveiling of an ancient prophecy awaits. Stay tuned for the reveal of the exceptional lineup that's set to ignite the stage.
EVENT DETAILS:
🗓 Saturday January 6th 2024
⏰ 3:00PM - 11:00PM
📍 The Wave - Flemington Racecourse,448 Epsom Rd, Flemington VIC 3031
🎫 International & Local artist line up includes:
Miss K8
Adjuzt B2B The Purge Pres "Dreamscape"
TNT
AniMe
Sound Rush
Anderex
Sephyx
Krowdexx Live
Riot Shift Pres "Dystopia"
Local Heroes: Colin Hennerz, Overdrive & Losty
ENQUIRIES:
Reach out to us if you're interested in joining the Evolution Family, VIP booking enquiries, sponsorships and partnerships:
https://www.facebook.com/evolutioneventsAU
https://www.instagram.com/evolution_events
https://www.evolutionevents.com.au/
Or contact us via email us for any enquiries to [email protected]
Visit our Evolution Merchandise store for discounted merchandise. new and upcoming festival apparel and accessories for our brands - https://www.evolutioneventsmerch.com/
TICKETING TERMS & CONDITIONS:
Our events are for patrons over 18+ Event
The right of admission is reserved by the event management and venue management parties
The right is reserved to vary, substitute or withdraw advertised programs, artists, venue and seating arrangements as necessary
This ticket is only valid only when purchased through an authorised agent
Patrons who disrupt a performance, who are in use or possession of a prohibited object or fail to produce valid identification may be asked to leave the venue without refund of ticket purchase
No refunds will be provided for change in mind or inability to attend due to personal reasons or duplicate orders by the customer. Refunds may be evaluated case-by-case for when you test positive to COVID (proof of COVID-19 positive status will be required) - please contact the EVO ticketing team at [email protected]
We recommend Tixel as the only official reseller platform for the event - for more information on how to resell tickets on Tixel follow the link here https://tixel.com/sell
COVID GUIDELINES:
Patrons who are not feeling well are to conduct a self assessment following the DHHS self assessment checklist before attending the event
Evolution Events endeavors to create a safe space for all, we do not tolerate discrimination or disrespect amongst our patrons. We respectfully acknowledge the Traditional Custodians of the land on which we will be gathering, and pay our respects to their Elders past and present.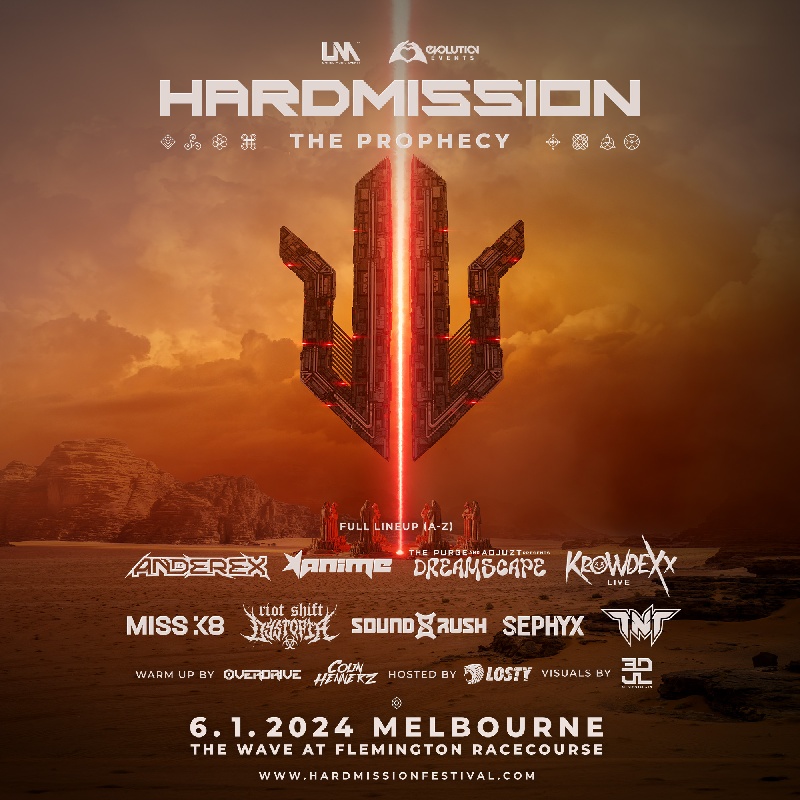 Venue Details
The Wave - Flemington Racecourse
448 Epsom Rd
Flemington, VIC, 3031