Boxing Day : Ice Cream Factory
18+
05:00pm, Tue 26th Dec 2023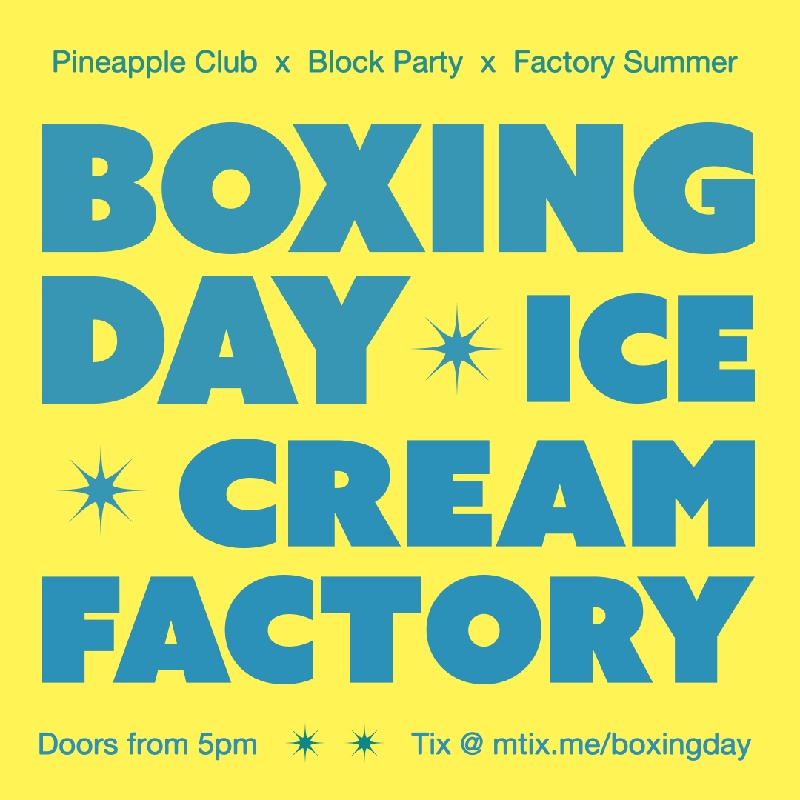 Venue Details
The Ice Cream Factory
92 Roe Street
Northbridge, WA, 6003
Boxing Day : Ice Cream Factory
18+
05:00pm, Tue 26th Dec 2023
Along with our pals at Pineapple Club & Factory Summer, we can't wait to kickstart the festive season with a Boxing Day summer sizzler at the iconic Ice Cream Factory.
🎉 Tickets on sale now!
➜ mtix.me/boxingday
Featuring all you know and love from the iconic Northbridge venue, including an epic 3-storey amphitheater, brand new OUTDOOR main stage & a range of extravagant bars & activations!
️️️️🍍 The Big Pineapple
🌼 Daisy's Silent Disco
⬛ The Vault Container
🍄 Purple Club Shroom Room
🌵 @patron Tequila Terrace
🍸 @perthisok Party Pergola
✍️ @ink.carts Tattoo Studio
🪷 @smirnoffaustralia Rooftop Sanctuary
🍭 @rockyridgebrewing Candyland
🌴 @captainmorganau Tropical Shack
🌸 @gordonsginau Pink Pavilion
❄️ Frozen Funhouse Slushy Bar
🪩 @smirnoffaustralia Hard Soda Club
🏝️ @drugaware_wa Chill Out Oasis
🥥 @coconutgrovetavern
🏭 @barpop.events Corner Deli
🍔 @milkylaneofficial Burger Bar
/// WHEN ///
Boxing Day - Tuesday December 26th
5pm - 12am
/// WHERE ///
The Ice Cream Factory, Northbridge
/// ARTISTS ///
A line up of local legends.
/// TICKETS ///
Tickets on sale now!
➜ mtix.me/boxingday
/// TICKET RE-SALE ///
The only safe way to buy & sell second hand tickets is via our Tixel page. If someone isn't using Tixel they are either trying to scam you or scalp their tickets.
/// SOCIALS ///
@blockpartyinc
@pineappleclubinc
@factorysummer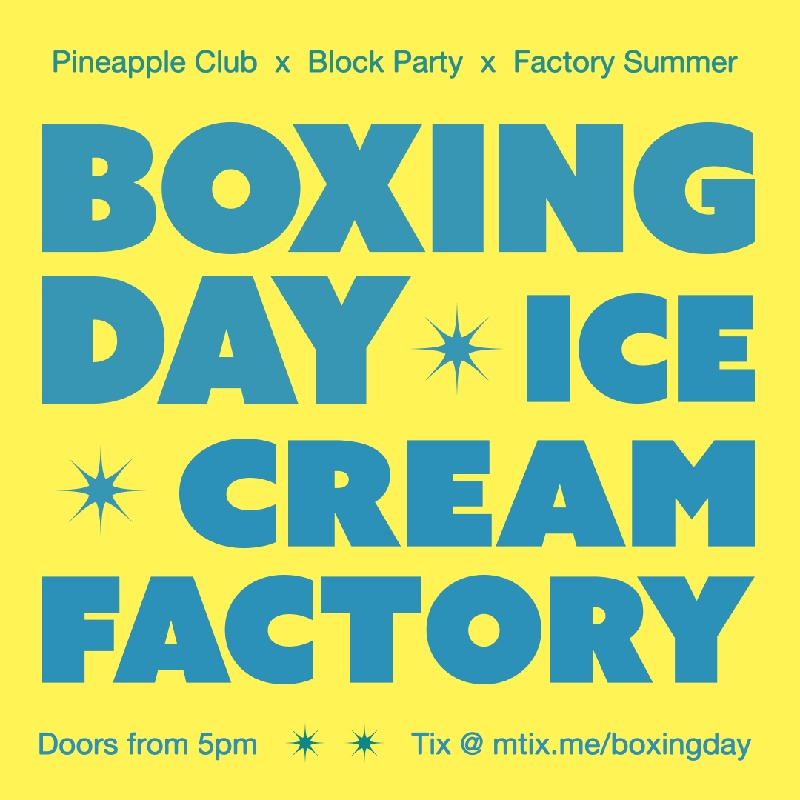 Venue Details
The Ice Cream Factory
92 Roe Street
Northbridge, WA, 6003