Block Party : Freo Long Wknd
18+
06:00pm, Sun 26th Sep 2021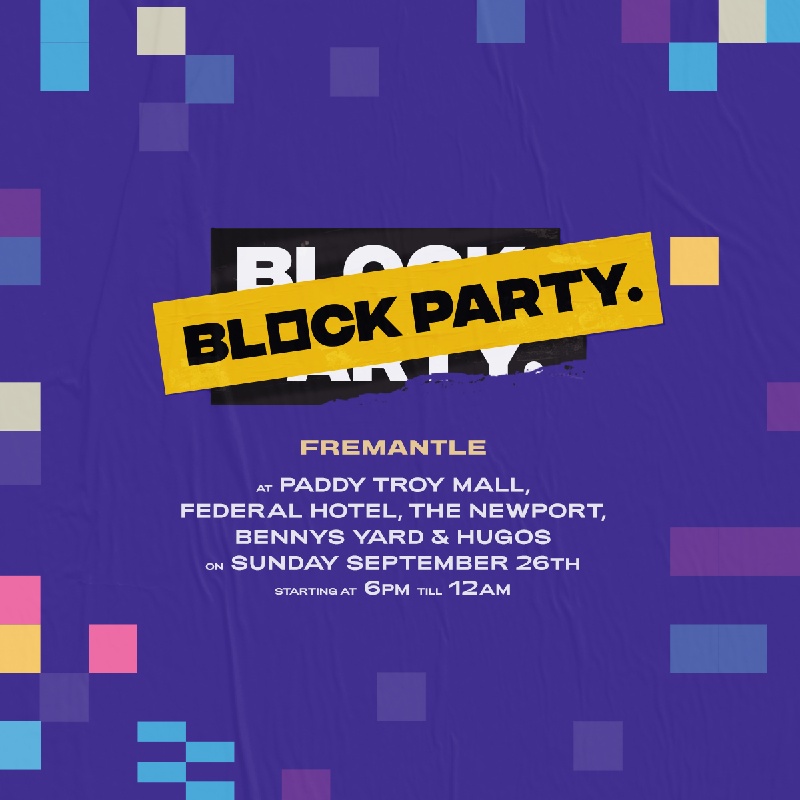 Venue Details
Paddy Troy Mall
Paddy Troy Mall
Fremantle, WA, 6160
Block Party : Freo Long Wknd
18+
06:00pm, Sun 26th Sep 2021
Block Party returns to its southern home for a long weekend special.
Bringing FREMANTLE together.
 The Federal Hotel (Garden Stage, Front Room and lounge)

 The Newport Hotel (Silent Disco and Tiki Bar)

 Benny's (Throwback disco stage)

 HUGOS Club (Silent Disco)

 Street Eats Eatery Laneway Kitchen

 Paddy Troy Mall (Laneway Vibes)
Expect all you know and love from Block Party with extra surprises and hidden pockets of space to explore across all the venues 
/// WHEN ///
Queens Birthday Long Weekend
Sunday September 26th, 6pm – 12am
/// WHERE ///
The Federal Hotel, The Newport Hotel, Benny's Yard, Hugo's, Street Eats Eatery and Paddy Troy Mall
/// ENTRY & ACCESS ///
Entry to the event is via the south-east side of Paddy Troy Mall.
Once you receive your wristband you will be able to walk freely between each venue and throughout the laneway.
/// ARTISTS ///
Block Party all stars covering the five stages and silent disco.
/// TICKETS ///
On sale August 10th, 6pm.
/// TICKET RE-SALE ///
The only safe way to buy & sell second hand tickets is via our Tixel page.
If someone isn't using Tixel they are either trying to scam you or scalp their tickets.
/// SOCIALS ///
FB: www.facebook.com/blockprty
IG: @blockpartyinc
/// HEALTH & SAFETY ///
To be able to run a safe and enjoyable event for all patrons, we will be implementing a number of COVID-Safe measures for this edition of Block Party.
If you are feeling unwell, please do not attend this event as you may put yourself, fellow event attendees and the wider community at risk.
If you begin to feel unwell at the event, or for any reason feel unsafe, please contact the closest event staff member and ask to be directed to the First Aid tent.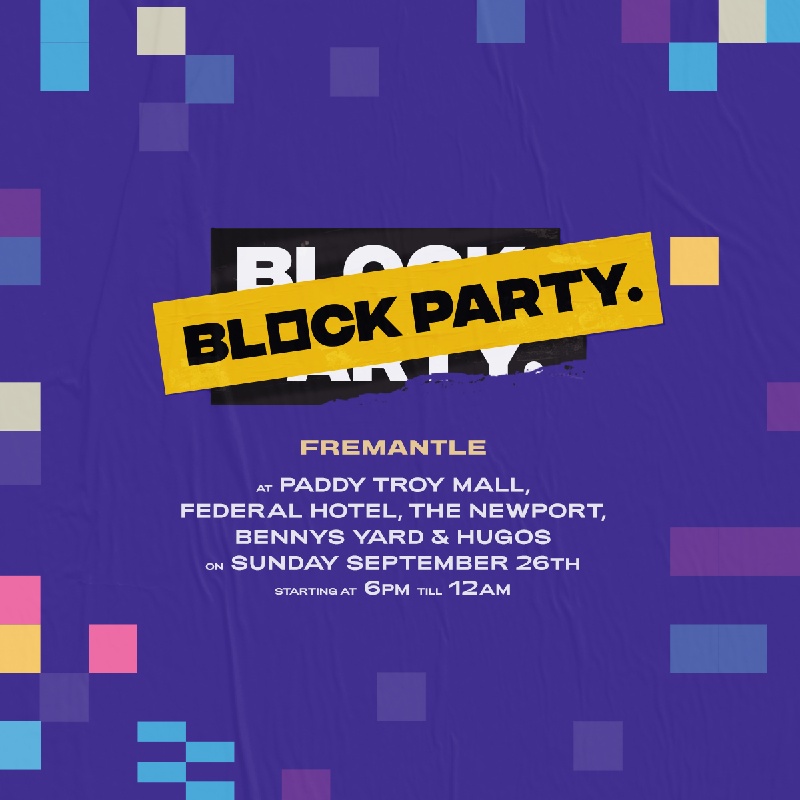 Venue Details
Paddy Troy Mall
Paddy Troy Mall
Fremantle, WA, 6160