03:00am, Sat 15th Aug 2020
GENERAL ENTRY
DDD20 - under 18 must be accompanied by an adult.
Sales Closed
$53.75
$50.00 + $3.75 fee
TABLE SEAT
DDD20 - TABLE SEAT
Sales Closed
$74.02
$70.00 + $4.02 fee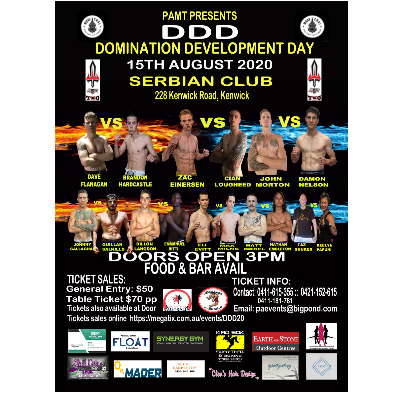 Venue Details
Serbian Community Club
498 Kenwick Road,
Kenwick, Perth, 6107
03:00am, Sat 15th Aug 2020
PAMT Presents Domination Development Day.   The event will be held on 15th August 2020 at the Serbian Club.  
Main event will be Cian Longheed vs Zac Einersen. Huge undercard with John Morton vs Damon Nelson, Dave Flanagan vs Brandon Hardcastle, Johnny Callaghan vs Quillan Salkilld, Dillon Langdon vs Emmanuel Ritti, Eli Evitt vs Max Milne, Matt Diesel vs Nathan Embleton, Taz Shuker vs Keelyn Papuni.  Plus more.......
Get your tickets to enjoy an action packed event.
Food and Drinks are available.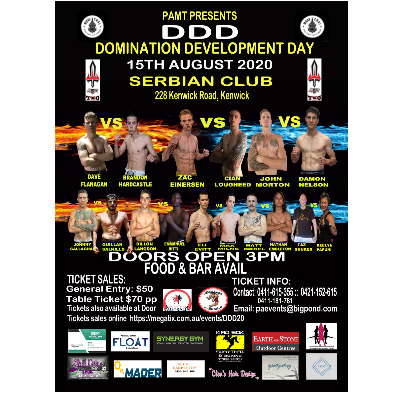 Venue Details
Serbian Community Club
498 Kenwick Road,
Kenwick, Perth, 6107